Ribeiro 1 Round 2
Xuan's Girls

Previously on LOST, oh sorry I mean last time at the Ribeiro house. Aimee, her daughter Bethany, son Benjamin and sister Abigail moved to Prosperity Point to escape her ex-husband. She had left him to be with a conman, Sawyer, who had disappeared on a flight from Sydney to LA. Aimee met some nice neighbors including Xuan Simmers, who she started dating. Aimee met and got engaged to Jan Tellerman, then moved out. Aimee came PP with a little surprise, she was pregnant with Sawyer's twin sons, who she later named Ford and Sawyer. Aimee's boyfriend Xuan got in a knock down, drag out fist fit with another neighbor, Howie Busto (now Dante). The round ended with Aimee and Xuan getting married in the kitchen in their undies.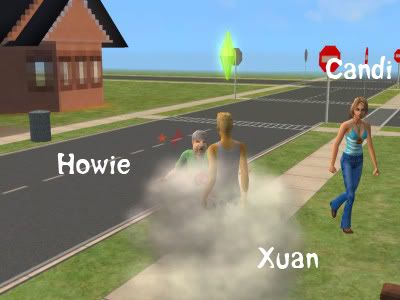 Sim Rachel: Welcome back folks. I sure hope you enjoyed talking to my daughter, Victoria, at Sim State. Now you're stuck with me again, hehe. So let's see what's going... Holy crap Xuan what's going on?
Xuan: Good for nothing Howie jumped me again! I just went out to great my friend Candi and blamo.
*sound effects* Pow, zing, wap, smack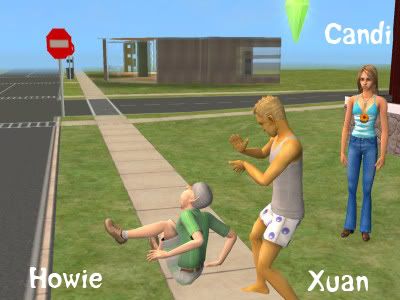 Xuan: I have won! Take that you sorry so and so.
Sim Rachel: I guess now you're even.
Xuan: Everybody loves Aimee's handsome boys. I know lots of ladies, so I'm trying to find these boys wives as early on as possible.
Me: Isn't that a little sick?
Xuan: They're just making friends for now. By some miracle these ladies will still be available adults when the boys get older.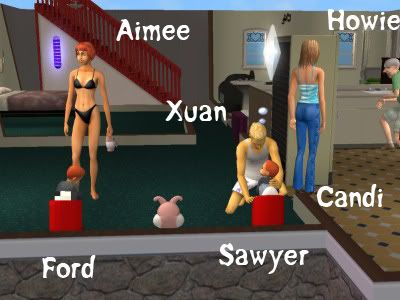 Aimee: Hey Rachel, you're back!
Sim Rachel: Yes ma'am. You sure are in your undies a lot even when companies over.
Aimee: Oh sorry, umm the AC is broken so it's really hot in here
Me: Yeah, the AC, right
Aimee: We're talking both the boys to use the potty. I'm so lucky Xuan has turned out to be absolutely wonderful with my kids. Must have been all the time he has spent with them and their Charisma Bunnies. Benjamin is at school right now and oh Bethany went off to college, she's done already. My daughter is SO smart.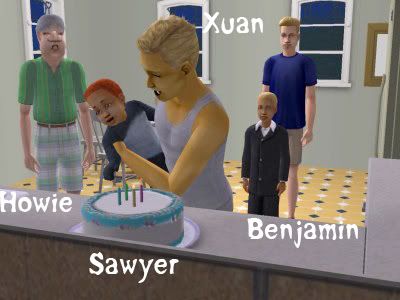 Xuan: Sorry Sawyer, your mommy is very tired so looks like I'll have to help you grow up.
Xuan: Ford wanted to learn to walk so badly, so I helped him before...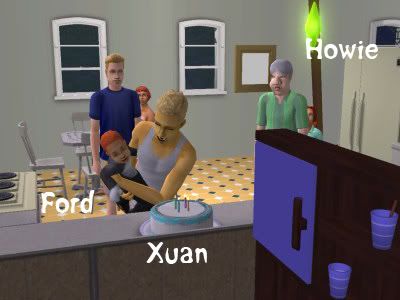 ...I helped him grow up too.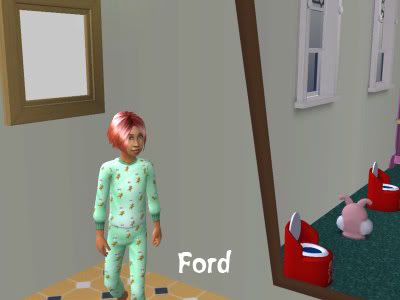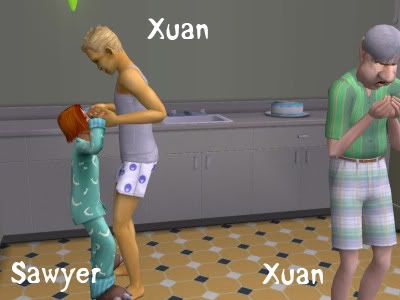 Aimee: *Yawn* See what I mean, the boys have really taken to Xuan.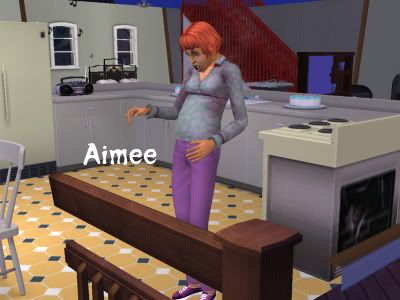 Sim Rachel: I guess we know why you were so tired Aimee.
Aimee: That pre-wedding, dream date WooHoo left me pregnant, again.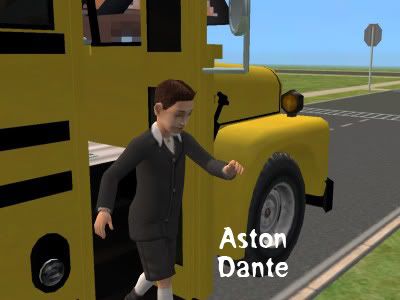 Me: Oh look who it is, the newest neighborhood stacker, Aston Dante. I can't wait to send you to college so we won't have to see you for awhile.
Sim Rachel: Hey Benjamin, whose your new friend.
Benjamin: That's Jenn Simmer, she's one of Xuan's friend. She's nice and smart too.
Aimee: Xuan even helps Ford with his homework. He's a natural born father.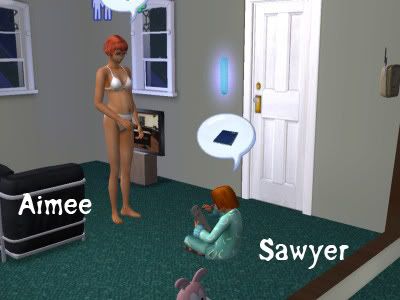 Sim Rachel: Aimee, do you really think it's appropriate to help Sawyer with his homework in your undies?
Aimee: It's just so hot in here.
Me: Looks like a little Dream Date WooHoo to me.
Aimee: Well nobody asked you.
Me: Yep the other thing Dream Date WooHoo leads to is Platinum Energizing.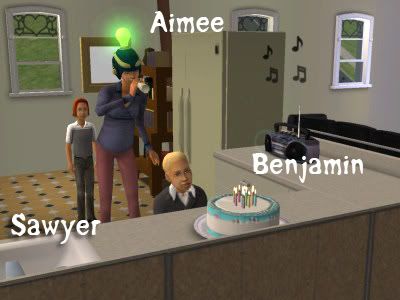 Aimee: I'm so glad I was awake for Benjamin's birthday.
Me: Yeah thanks to Dream Date WooHoo leading to Platinum Energizing.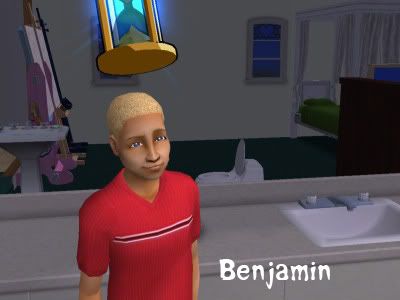 Benjamin: I just want to have fun and be a Professional Party guests, like Paris Hilton, only cool.
Sim Rachel: Aimee maybe you should have had that last burrito. Hey where'd this bathroom come from? I guess you must have added it with the money from Xuan...
Aimee: *yelling* Would you shut up and help me? The baby is coming.
Sim Rachel: Oh sorry.
Aimee: Meet Sun Ribeiro.
Me: Sun, interesting name, where'd it come from?
Aimee: She's yellow like her papa, just like the Sun.
Me: Sure, right. Couldn't possibly be from watching LOST on TV could it?
Aimee: We just got a TV, I don't know what this show is you keep talking about.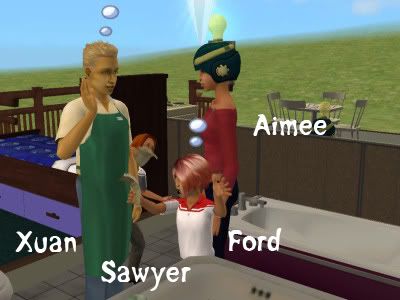 Aimee: boys, I'm very happy you both got A+ on your report cards, but can't you see Xuan and are on a date? We're all going to get stuck in here.
Sim Rachel: In the bathroom?
Aimee: Just for a minute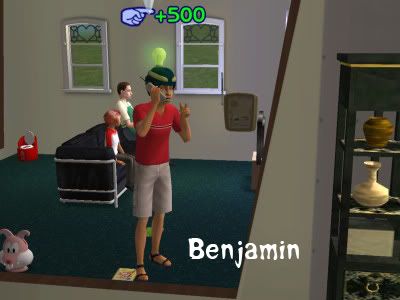 Me: See those aspiration points above Benjamin's head? All the boys want to be friends with Jenn Simmer and that's Benjamin doing it. I can't wait for him to go to college and see if these two have any chemistry.
Sim Rachel: Looks like a dream date in the making.
Sim Rachel: Wait a minute, did Xuan change cloths and you guys switch sides of the bed?
Xuan: We're working on an awesome Dream Date, do you mind?
Sim Rachel: WOW, umm sorry.
Aimee: This a new woman around here. She's from Aspiration Falls, a couple towns over. She founded the town in the hopes of filling the whole thing with her family.
Sim Rachel: So how's she doing?
Aimee: She's had 24 children and has like 60 grandkids.
Sim Rachel: Wow, 24 kids and she has that smoking body?
Me: Yep folks this is at long last, the founder of my Neighborhood Challenge in a new dress and hot downloaded hair. I hope to write her story when I get bored with Prosperity.
Aimee: Look at the twins playing together. I'm so lucky these two get along so well.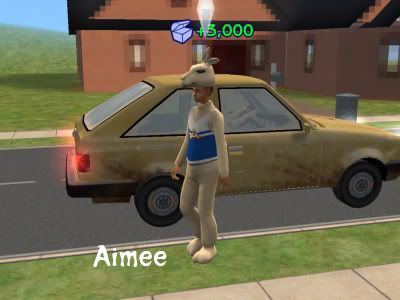 Aimee: I finally got promoted, since I finally wasn't pregnant. It sure is going to take a long time reach my dream of being a Hall of Famer at this rate. Well at least I'm not pregnant now.
*2 seconds later*
Aimee: There goes that plan.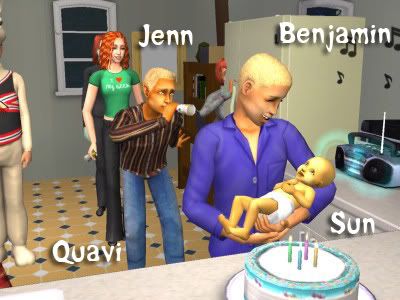 Sim Rachel: Happy birthday dear SUN!!!
Me: Rachel I think we need to work on your creatively next time we're at your house.
Sim Rachel: Why?
Me: Whisling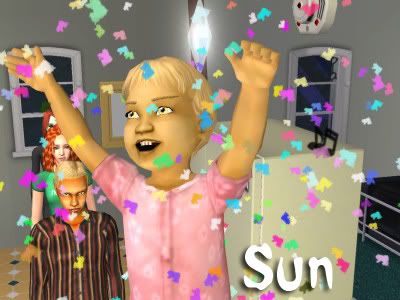 Aimee: The spitting image of her papa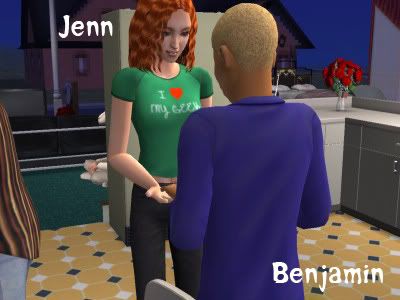 Sim Rachel: Look at these two getting along.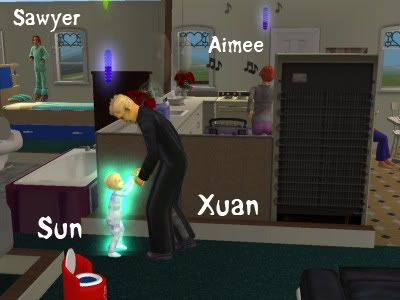 Aimee: Xuan douts on his little princess. I thought he was good with my boys, but this is amazing.
Sim Rachel: *waves* Hi Aimee!
Aimee: No you idiot.
Sim Rachel: Oh sorry baby time, you know I've done this enough myself you would think...
Aimee: Shut Up!!!!!!!!!!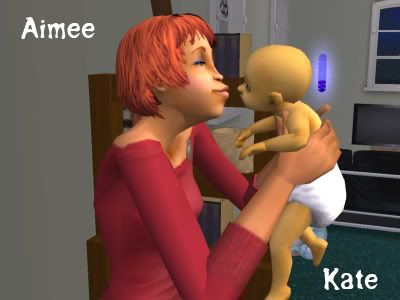 Aimee: Meet my daughters.
Sim Rachel: Daughters? Plural?
Aimee: Yep, this is Kate and...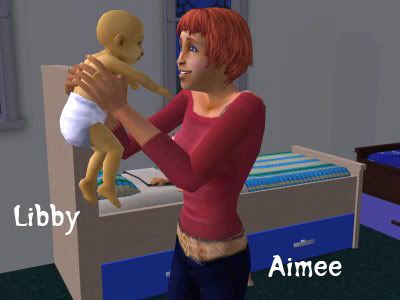 Aimee: This is Libby.
Me: Hey did anyone give you any cheese cake?
Aimee: Yeah I was having a craving so Benjamin whipped some up for me.
Me: I need to have a talk with him...
Aimee: The boys sure were happy for more sisters.
Me: Why does it look like they're yelling at Katie, not about her?
Xuan: I finally found a job in medicine and I've already gotten a couple promotions. I'm well on my way to my dream job of Chief of Staff.
Sim Rachel: Great job Xuan! You might want to get inside Aimee just had twin daughers.
Xuan: Babies, oh boy
Me: wow, some sims really change when they come here. In Prosperity Falls, Xuan would not be happy about this.
Well on the note I bid you farewell. This round produced 3 points from 3 new sims, Sun, Kate, and Libby. Benjamin will be headin off to college shortly with the other remaining Gen 1 teens.