A Neighborhood First
Last time this house had some nanny problems, multiple nannies!!! Tanzanite and Zircon grew to be handsome boys. Amethyst found out she was pregnant again and little Jasper arrived awhile later. Bronx adopted two dogs. Stray Grace and Fred from the adoption pool. Both were elders, opps.

Rachel: Hey boys! What are your parents doing?
Tanzanite: I don't. They went in there.
Rachel: Oh, OK. *Opens door*


Rachel: *shuts door* Opps!


Rachel: Oh no the dogs are fighting!!!


Rachel: Looks like Grace won.


Me: It's a good thing these two are elders or I'd be upset that they don't like each other enough to have pups.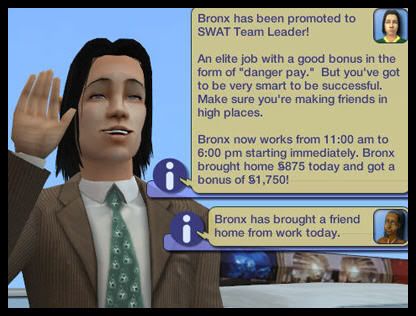 Rachel: Welcome home Bronx. Oh congratulations on the promotion!
Bronx: thank you very much Rachel.


Rachel: Hun, your dad is behind you. Congrats on your first A+!


Rachel: Holy cow! Way to go Amethyst!
Amethyst: Well thank you very much Rachel. Life couldn't be better.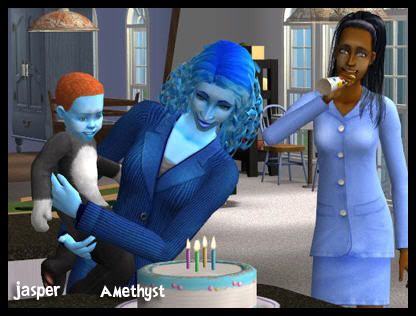 Rachel: Oh boy, it's Jasper's birthday! Happy Birthday little man!!!


Rachel: Wow Jasper you sure a handsome lad.
Jasper: What's a lad?
Rachel: Boy.
Jasper: Why didn't you say boy?
Rachel: I didn't want to.
-The Next Day-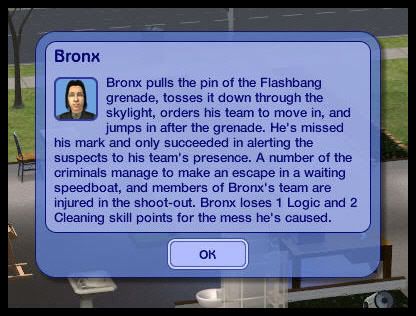 Rachel: Bronx, you would think you would have picked that up from someone by now. Goodness.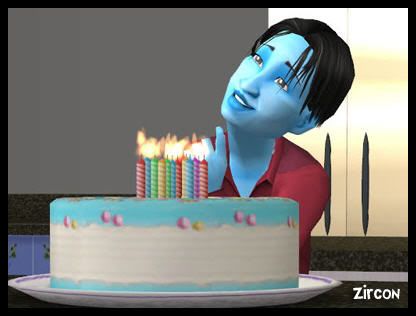 Rachel: Sweet it's the twins' birthday! Happy Birthday Zircon!!!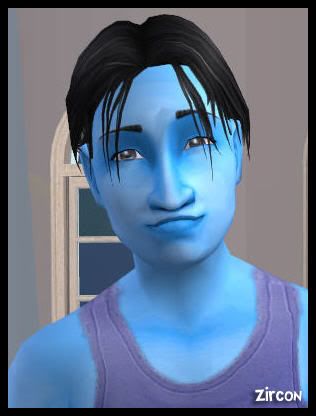 Rachel: Don't look so dejected man, you're very handsome. What do you want in life?


Zircon: Knowledge, lots of knowledge.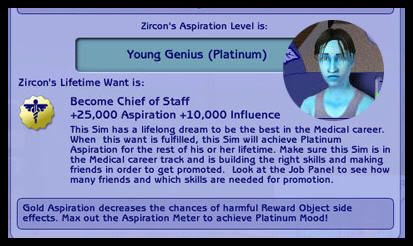 Zircon: And I plan to gain it in medicine.
Rachel: Good plan my man! Oh your brother is getting ready to blow out his candles.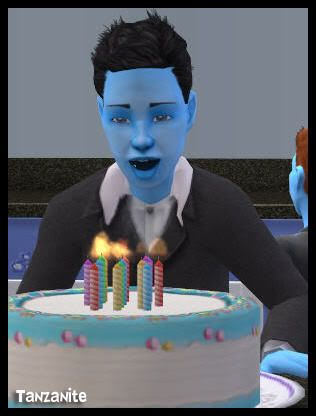 Rachel: Happy Birthday Tanzanite!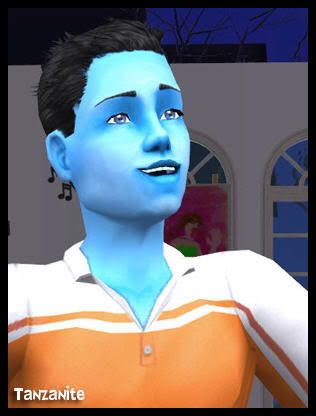 Rachel: Now that's what I call a hopeful look. What are you looking for in life Tanzanite?


Tanzanite: Show me the money!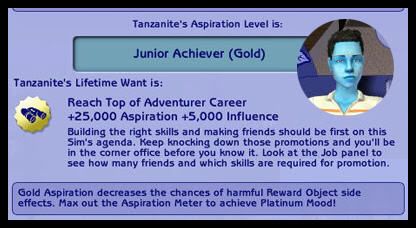 Tanzanite: And I plan to get it through a life of adventure. Just call me the next Indiana Jones!
Rachel: Hum, haven't had anyone be an Adventurer yet, I hope it works out for you.


Tanzanite: That sure is a lovely jacket you have on.
Naomie: Why thank you.
Rachel: So is there love in the air Tanzanite?
Tanzanite: Eh.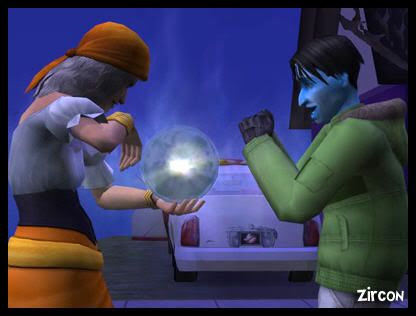 Rachel: You know Zircon there are a lot of ladies in this hood that aren't spoken for yet.
Zircon: Yeah I know. I paid for a really good match. I'm hoping it will be one of them since my parents want us to marry girls from established families.


Me: I'd like that too.




Rachel: Oh, no such luck this time.
Zircon: Oh well, might as well make the most of it.


Rachel: Get down!
Zircon: I feel very attracted to Shasta.
Rachel: Hum, what are we going to do about this?


Me: 3 Bolts, let them be together.


Rachel: Go ahead and keep dating. I think it's meant to be.
Zircon: Thanks!!!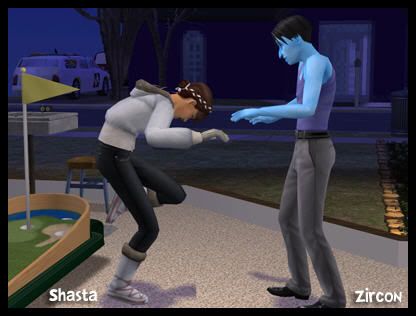 Rachel: Smooth move. Come on man!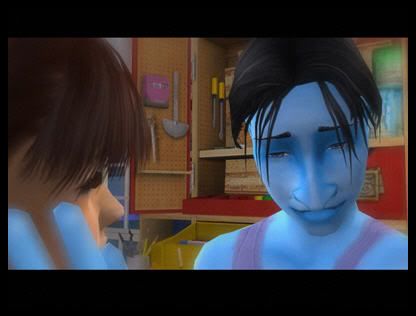 Rachel: Very bold right after stepping on her foot.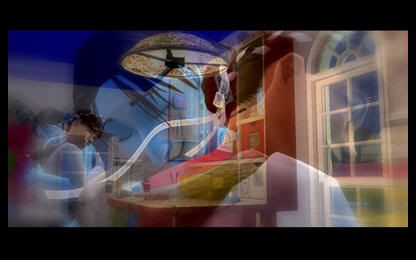 Rachel: Awe.


Rachel: Let's see what everyone else is up to since I'm not just here to visit the twins. Oh, shh, study session.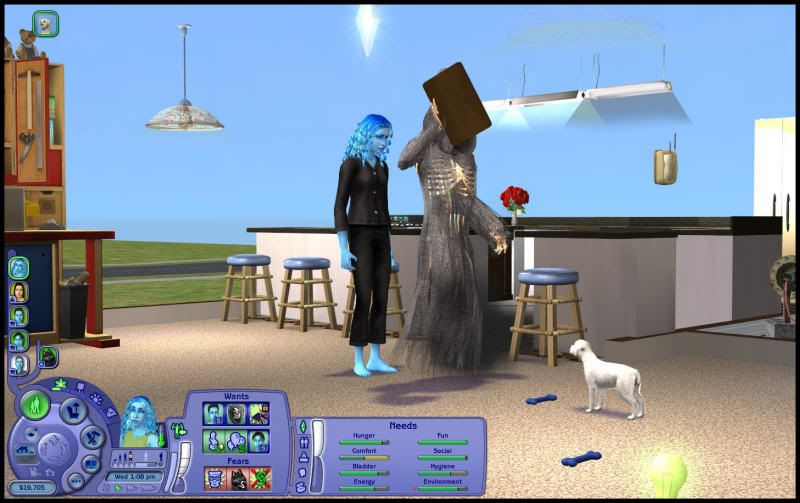 Rachel: Oh no, not Fred!!! Bye, bye boy.


Bronx: Well honey, our oldest are teens and our youngest is already a real big boy. You the one thing we don't have is a daughter, and heiress. What do you think about trying for one?
Amethyst: * pulls Bronx with her*


Rachel: Looks like a yes.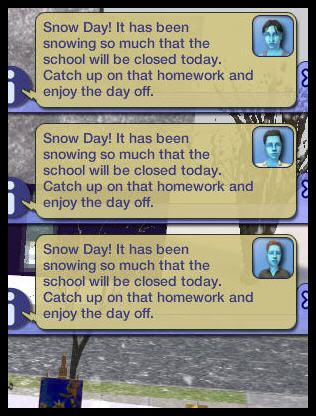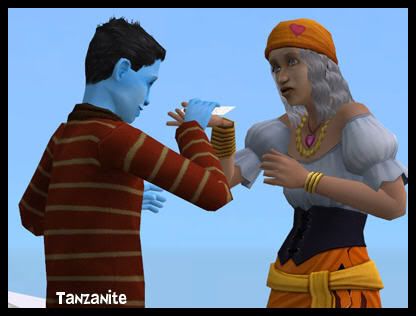 Rachel: Using your snow day to look for a girlfriend Tanzanite?
Tanzanite: Yes mame.


Rachel: Ah Faith Anderson. What do you think Tanzanite?


Tanzanite: She'll be a great friend.
Rachel: No chemistry?
Tanzanite: Not much at least.


Rachel: Oh, your dad's friend Karoline Bach. What do you... What the heck!?!? *runs to back yard*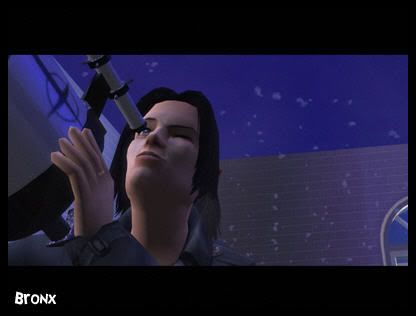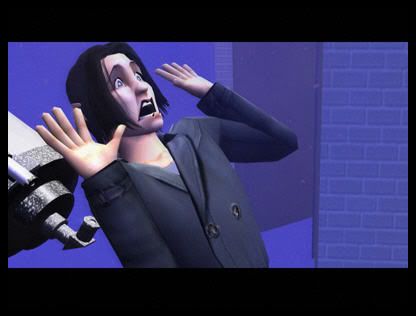 Rachel: Ahhhhhhhhhhhhhhhhhhhhhhhhhhhhhhhhh
Bronxxxxxxxxxxxxxxxxxxxxxxxxxxxxxxxxxxxxxxxxxxxxxxxxxxxxx!!!!!!!!!!!!!!!!!!!!!!!
Oh my gawd something just took Bronx! Someone call the police, the fire department, the X-Files, something!!!!


Me: Relax, he'll be back and he'll be, almost as good as new.


Rachel: You sure?


Me: Yes, I'm sure. Go check on Tanzanite.




Rachel: How's it going Tanzanite?
Tanzanite: Great! I think she's the one!
Rachel: What about your parents wanting you boys to marry into established families?
Tanzanite: That's what Jasper's for.
Rachel: All..... What the heck!?!? *runs to front yard*


Bronx: Ahhhhhhhhhhhhhhhhhh!!!!!!!!!!!
Rachel: Are you all right?
Bronx: Did you hear something?
Rachel: No.
Me: I did.


Rachel: I hope she kisses him back.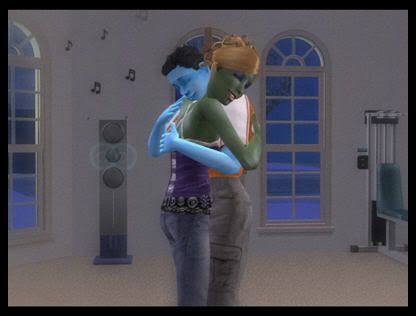 Rachel: I guess Karoline is going to college with Tanzanite.


Rachel: Wow, another snow day!


Rachel: Girl, girl, girl!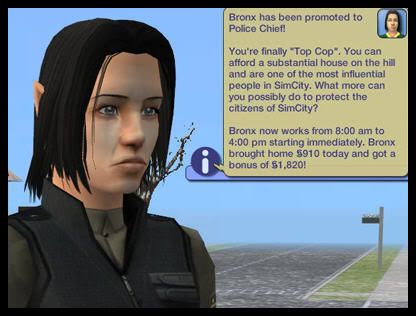 Rachel: Congrats Bronx! What's wrong?
Bronx: I don't feel so good.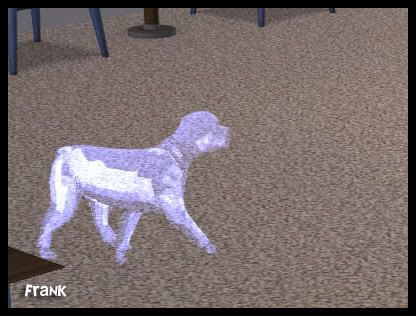 Rachel: Ghost dog!


Rachel: Oh and look Shasta's back.
Zircon: She just wanted to let me know she got accepted into Sim State University.
Rachel: How wonderful!


Tanzanite: Ahh!!!


Jasper: Ahh!!!


Bronx: Ahh!!!
Rachel: Looks like you have another chance to have a daughter.
Bronx: What? I'm pregnant?!?! How does that work!?!? Where does the baby come...
Rachel: I don't think you want to know.


Rachel: Oh no and our beloved Grace!!!


Rachel: Get it girl!


Rachel: Hey Shasta's back again.


Rachel: Wow a karaoke machine! Apparently she's rich too.


Rachel: Jasper what's wrong? Did you have a bad dream?
Jasper: It was Fred's ghost. No one can paint or sleep around here anymore.
Rachel: We'll have to see about moving them to a pet cemetery at some point.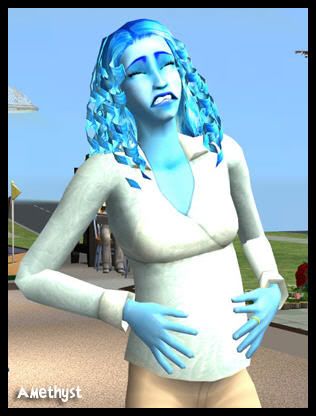 Rachel: Girl, girl, girl!!!!


Rachel: Come on, hurry up!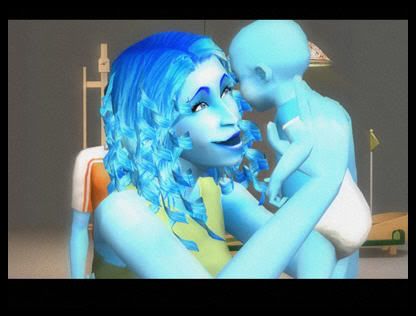 Rachel: Girl?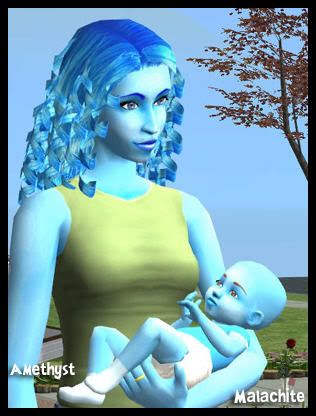 Amethyst: Nope, a 4th boy. Good thing there are a lot of ladies in this hood already.
-Awhile later-


Rachel: Amethyst what have you been up to?
Amethyst: Studying cooking. I wanted to make Bronx a special treat.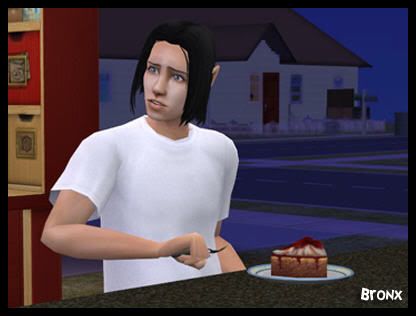 Rachel: Cheesecake, you made him cheesecake!?!?!
Bronx: What?
Amethyst: I thought that since we need a girl, we might as well double the odds. I really don't want to go through labor again/
Bronx: Wait, so there are going to be 2 babies coming out of...
Rachel: Fraid so.


Rachel: Moment of truth, perhaps standing in the wall of the shower wasn't the best idea.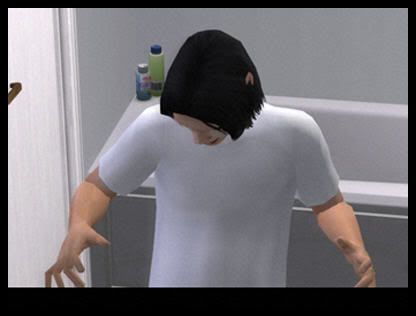 Rachel: Oh, girls, girls, girls!


Bronx: It's a girl, a green girl. We'll call her Emerald.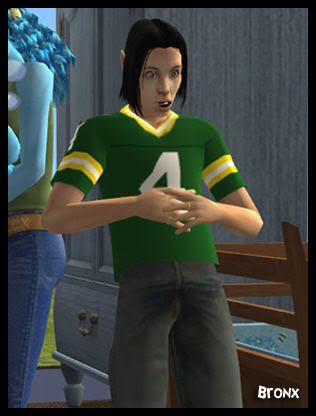 Bronx: Come on we have our girl, this one can stay in.
Rachel: Fraid not.


Bronx: Another girl. Meet Ruby!
Rachel: Congratulations guys!!! Well looks like it's time to go. Wait the boys didn't call college.


Me: Oh crap, I forgot with all the baby excitement! Um, they will, don't worry.


Rachel: All right, see you guys next week. Good luck with your 3 babies!!!!

I really got my money's worth out of SnagIt on this lot!
Points: 5
3 for the babies
1 for Top of Career for Amethyst
1 for Money