Bootylicious
Last Time high school sweethearts and 3-bolt couple Rosario and England Vega returned from college and went to get married when they realized England hadn't even proposed yet, oops. So they got engaged and then got married. England adopted an elder dog named Booty, my who thought that up? They soon found out they were going to be parents and had a baby girl, Canada. That's right the naming scheme is Countries.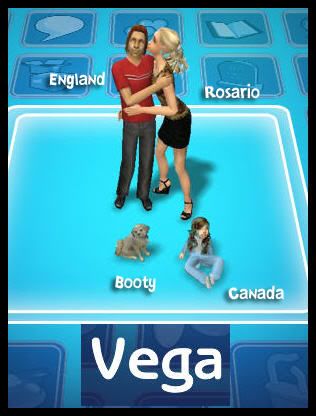 Rachel: Why hi there Canada. Your parents must be at work 'cause I see that terrible nanny is here. Awe you love your little Booty don't you?
Me: What?

Rachel: The dog.
Me: Still sounds wrong.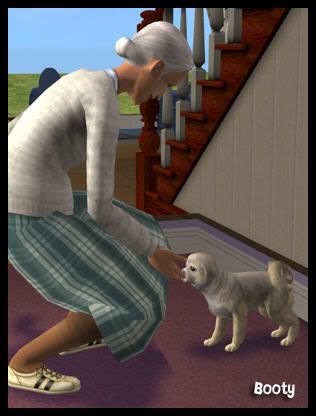 Rachel: Look even the nanny loves the Booty. Granted Canada is crying in the corner because she is so tired, but you know, keep playing with the dog lady.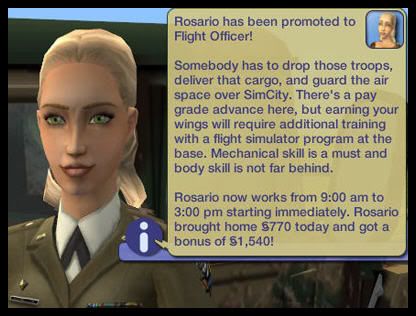 Rachel: Congratulations Rosario! Say you should get in there and put your daughter to bed. That stupid nanny spent all day playing with your Booty.
Rosario: She did what?
Rachel: You dog, Booty.
Rosario: Ah I see.
-The Next Day


Rachel: Oh no! What's he doing here? I think everyone is OK, aren't they?!?!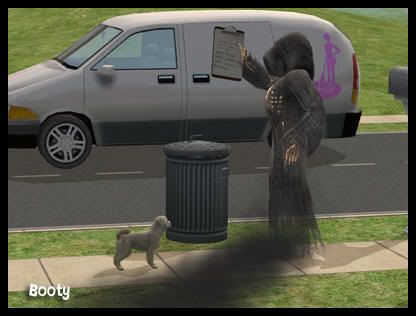 Me: Smoke monster anyone?

Rachel: What are you talking about? That's Booty and the grim reaper is here for her.
Me: Nothing just a Lost reference.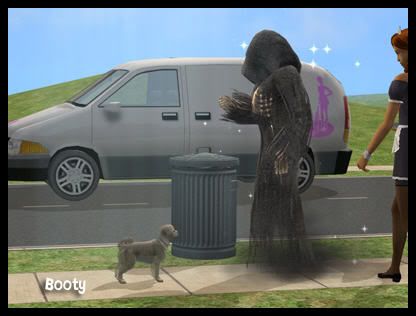 Rachel: *crying* Bye, bye Booty.
Me: I wish I could get rid of my Booty that easily.

Rachel: This is hardly the time.
Me: Sorry last booty joke, I swear.
Me: This is my first pet death and I thought it was hilarious that Grimmy threw a stick for the dog. Bye Booty.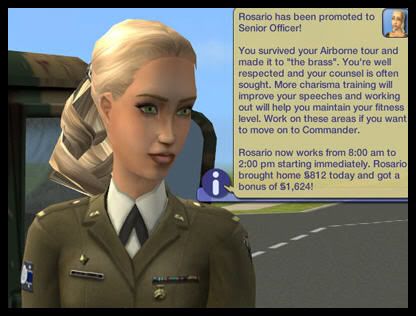 Rachel: Wow second promotion in 2 days, nice!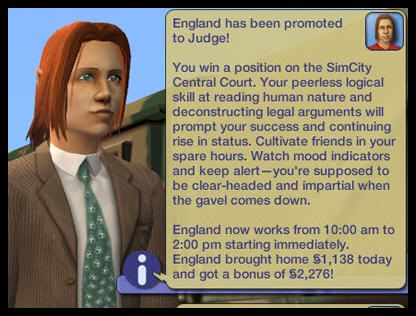 Rachel: And one for England! Umm, got some bad news. Your Booty has gone away.
England: Oh the working out is working?
Rachel: Ah no, your dog Booty passed away today.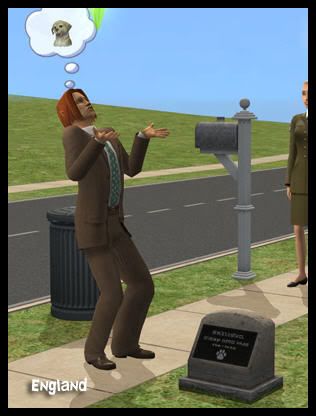 England: Why? Why'd you take my Booty?
-Later-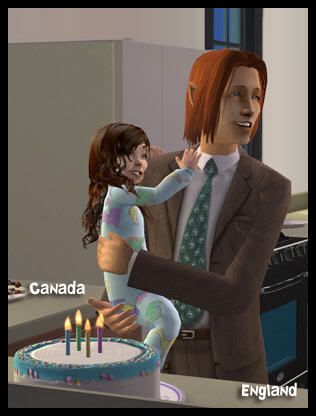 Rachel: Well, not the best time for a birthday, but when it's time, it's time.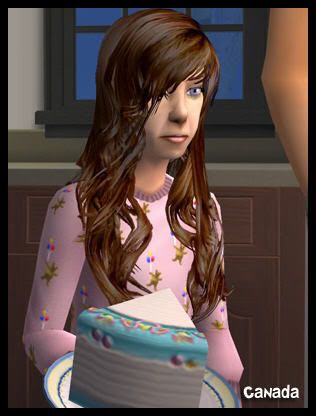 Rachel: Happy Birthday Canada.
Canada: Um, thanks.
Rachel: What's wrong honey?
Canada: I miss my Booty.
Rachel: I know honey we all miss your Booty.
-the Next Day-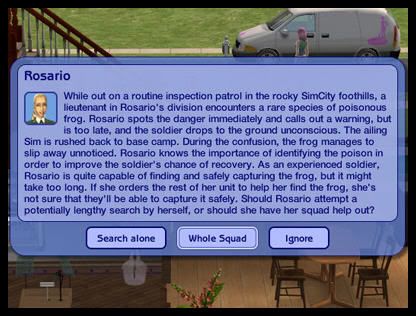 Rachel: Excellent job Rosario!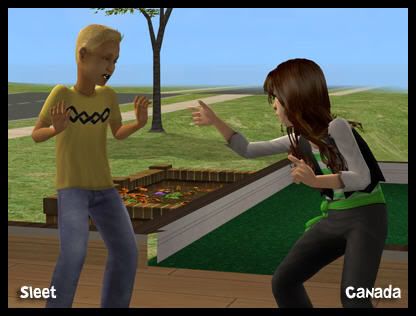 Rachel: Wow Sleet you sure are coming home with everyone here lately. Especially the girls.
Sleet: I just come to play.
Me: Looks like he's keeping his options open to me.

Canada: So Grandma why do you have a bump on your stomach?
Coqui: I'm going to have another baby. Another Aunt or Uncle for you.
Canada: I thought Aunts and Uncles were old.
Coqui: Not all the time.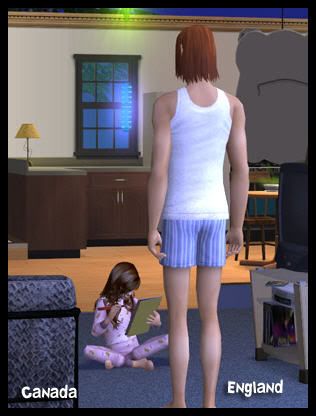 Rachel: Now that everyone headed home, it's homework time.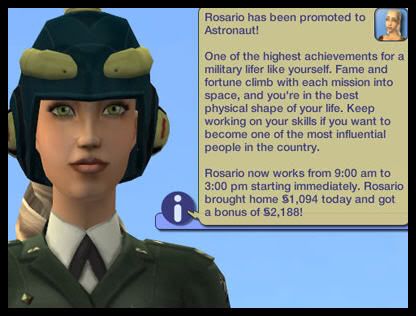 Rachel: Holy man alive! Another promotion!
Rosario: I should be a General any day now!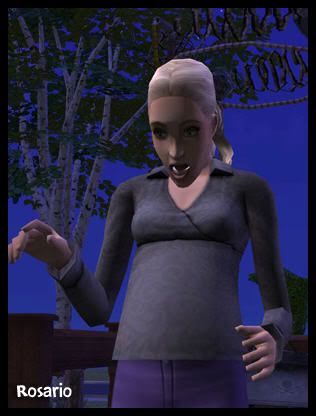 Rosario: Holy crap!
Rachel: I thought you and England weren't going to have another baby.
Rosario: We weren't but we did have a dream date the other day. It must have happened then.
Me: Yeah Risky WooHoo struck again! The first time to. I uttered, "You've got to be kidding me" when I realized it.

Rachel: Well congratulations anyway.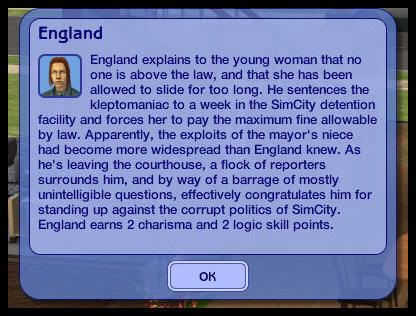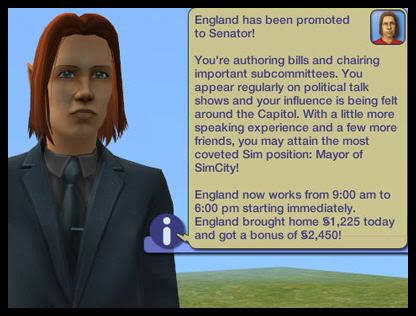 Rachel: Nice job England! Man there are a lot of promotions around here!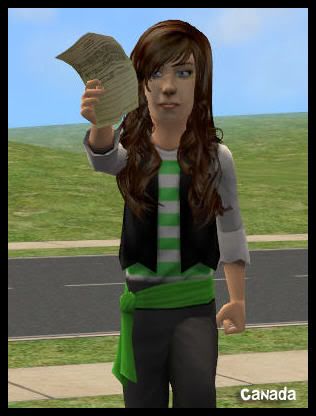 Rachel: Woot and Canada brings home her first A+!!!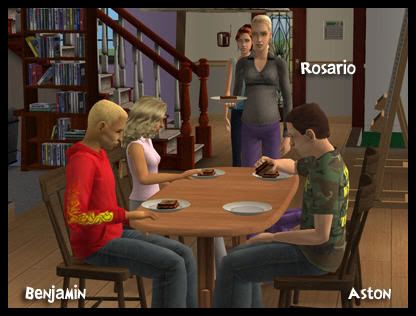 Rachel: Well this is how most of the week went. There was always company there.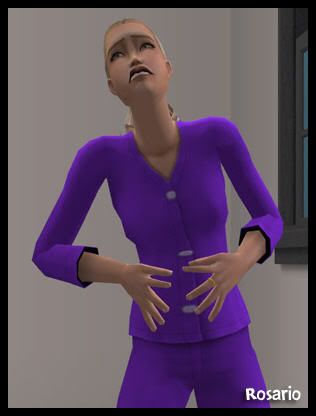 Rosario: Englandddddddddddddddd!!!!!!!!!!!!!!!!!!!!!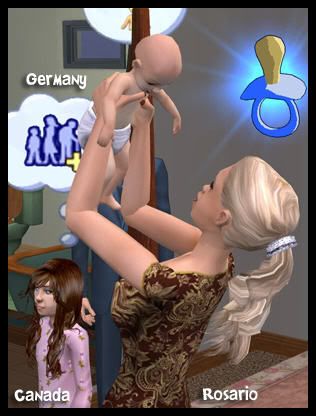 Rosario: It's a boy. Meet Germany.
Rachel: I see he's blond like his momma.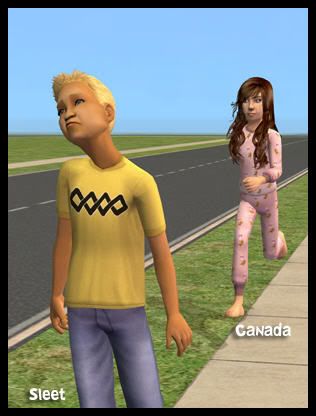 Rachel: Look whose here again. It's Sleet.
Canada: Tag, you're it!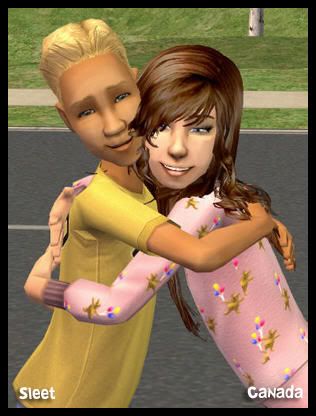 Sleet: I love you Canada.
Canada: I love you too Sleet.
Rachel: That boy loves all the little girls.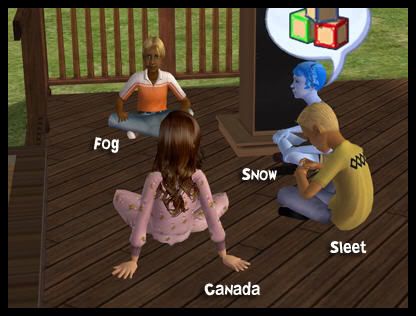 Rachel: At least this time he brought his siblings.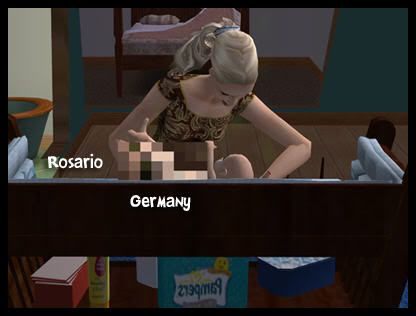 Rachel: Well it's time to go already. You take care of that stinky diaper and I'll see you next week.
Rosario: OK, bye.

Points: Just 1 for Germany, who was once again the result of Risky WooHoo. Man I have fertile sims!