Nanny Troubles
Last time, Bronx and Amethyst graduated from college, got married, and had twins, Zircon and

Tanzanite

. They spent most of their time making friends.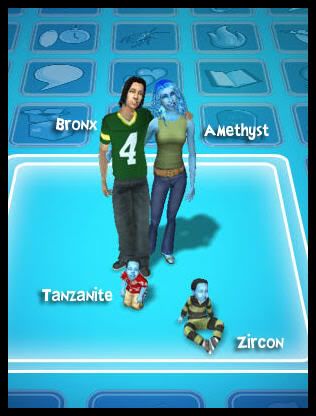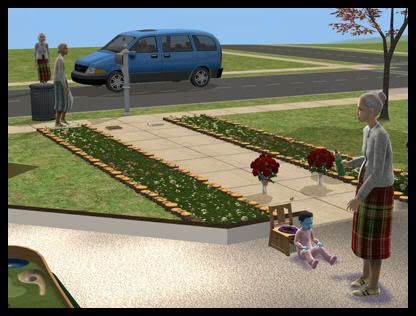 Rachel: Hum, something weird is going on here. When I arrived there was already one nanny here, but she said she wasn't working. So Bronx quickly called one so he could head to work.


Rachel: But then not one, but 2 nannies showed up. Bronx and Amethyst are at work and there are now 3
incompetent
nannies in the house.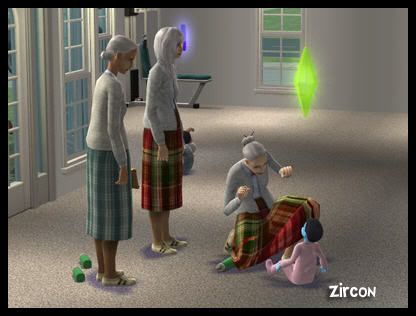 Rachel: When they aren't lined up to play with one of the twins...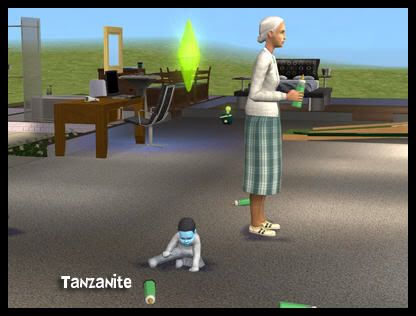 ...they are bringing them bottle, after bottle,


...after bottle.
Me: Toddler Mania flashbacks anyone?

Rachel: I have no clue what you are talking about but this is going in my notebook outlining this terrible nanny service we have here.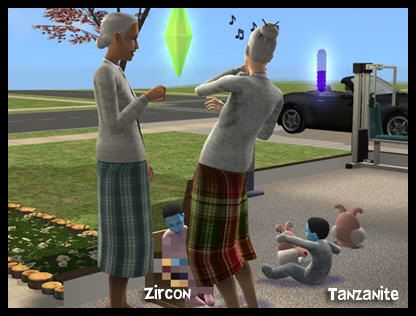 Rachel: They were amusing when they picked on each other though.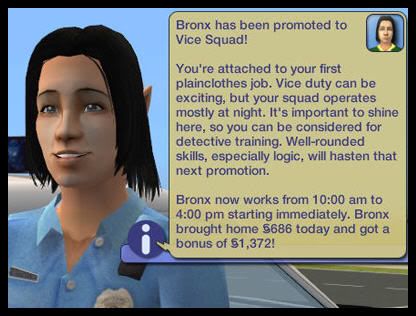 Rachel:
Bronz
thank goodness you're home! Oh and
congratulations
!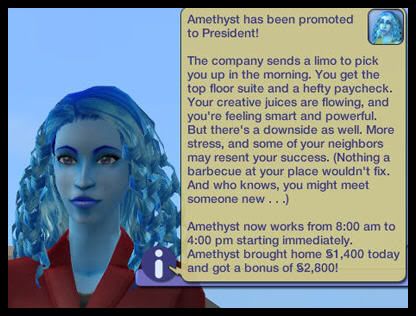 Rachel: Congrats to you too! Now, let's get these
nannies
out of here.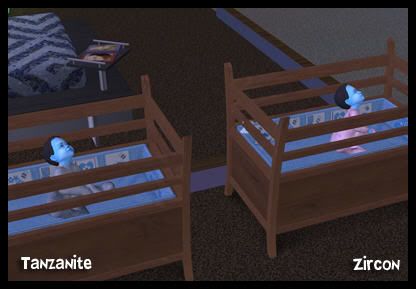 Rachel: Awe, the twins sure are cute. They aren't
identical
but they do, do things in unison.


Rachel: Boy, you guys sure can't get enough friends can you?
Bronx: Nope, you can never have enough friends.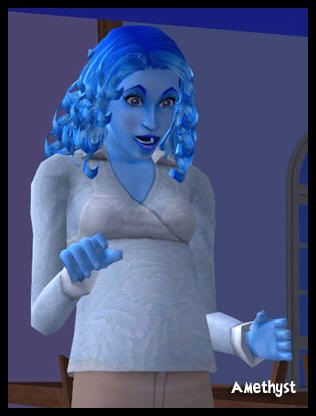 Amethyst: Oh! Looks like one of those
WooHoos
from last week left me pregnant.
Rachel: Congrats again!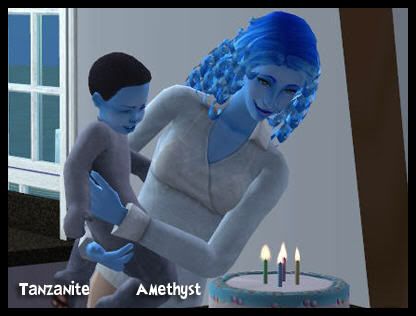 Rachel: *Singing* Happy Birthday Dear
Tanzanite
!


Rachel: Oh and what a handsome young man you are too.
Tanzanite
: Gee thanks lady!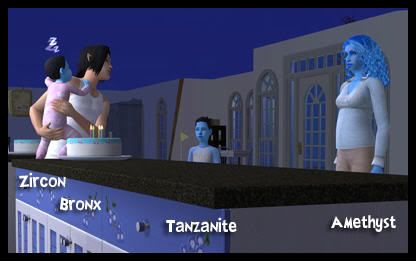 Rachel: *Singing again* Happy Birthday dear Zircon!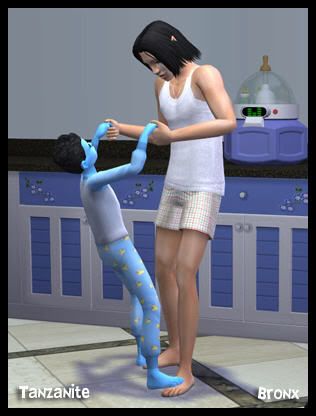 Tanzanite
: *Singing* Birthdays are fun, birthdays are great, no more nannies stinking up the place.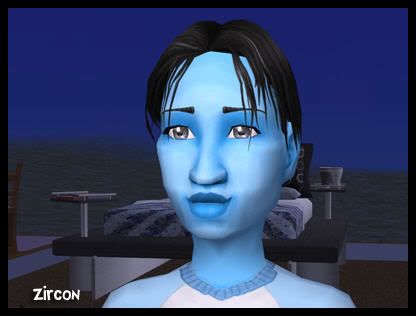 Rachel: There you are Zircon. You are handsome too.
Zircon:
Ahh
, thanks.
-The next day-


Rachel: Bronx, whose your little 4 legged friend?
Bronx: This is Grace, she's a stray.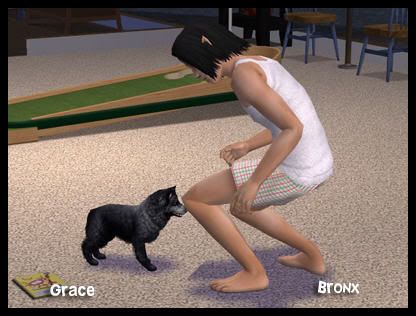 Rachel: It's so great you were able to welcome her into your home.
Bronx: Yeah, but she needs a friend. I think it would be neat for her to have puppies.

Bronx
: Meet Frank, we just adopted him.
Rachel: He's a cutie.
-The next day-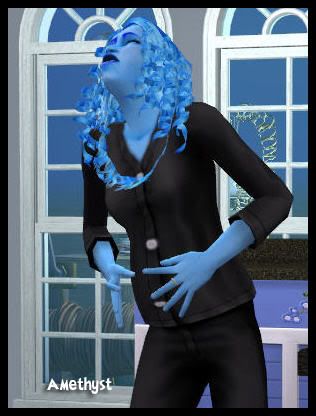 Rachel: Wow, how time flies!
Amethyst:
Ahhhhhhhhhhh
!!!!!!!!!!!!!!


Rachel:
What'd
ja
have?
What'd
ja
have?
Amethyst: A third boy, meet Jasper.
Rachel: Red hair huh?
Amethyst: Bronx's brother, England has red hair, must be a recessive trait for Bronx.

Tanzanite
& Zircon: Yippee, 4 guys to one girl.
Rachel: Yeah, your mom is hopelessly out numbered. Go do your homework like good boys.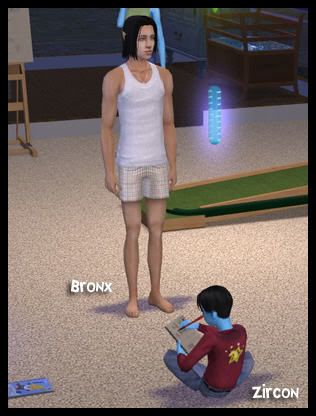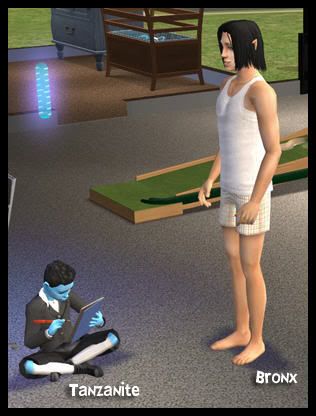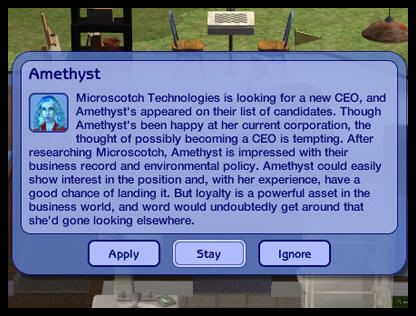 Rachel: Looks like a good
decision
for Amethyst.


Rachel: Sweet the
doggies
are getting along. Shouldn't be too long before we have some puppies around.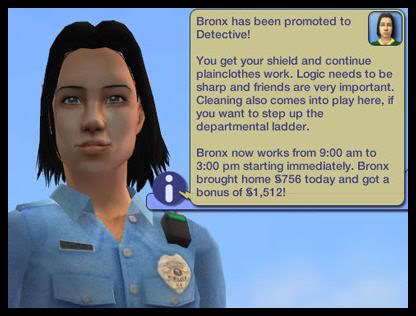 Bronx: Slight problem with that.
Rachel: Oh hi Bronx. Congrats on another promotion. What's the problem?
Bronx: We took Grace to the vet and she's too old.
Rachel: Awe, I'm sorry. They are nice doggies at least.
Me: *Side Note*Yeah, I'm not so good at exactly how everything works for the pets, wait until next update, you'll see more mistakes. Sorry, back to the story.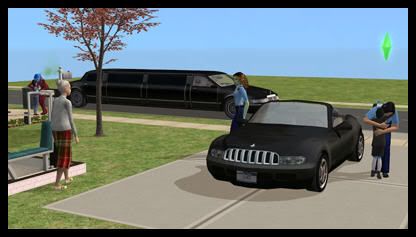 Rachel: Look hugs all around.
Tanzanite
is hugging Bronx, to the right and all the way to the left, Zircon is hugging Amethyst. What did I say about them doing things in unison?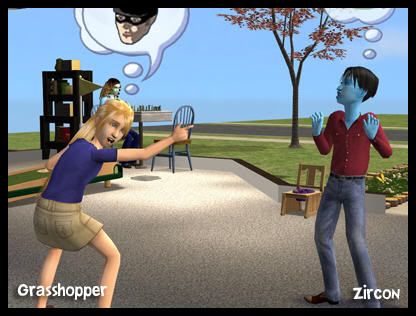 Rachel: And Zircon is making friends with Grasshopper
Cooprider
. Great! That will come in handy later.
-The next day, Friday already-


Rachel: Holy cow another promotion Bronx! What a week!
Bronx: Well, thanks, but I'm not the only one with news.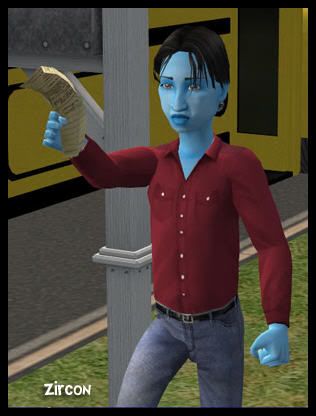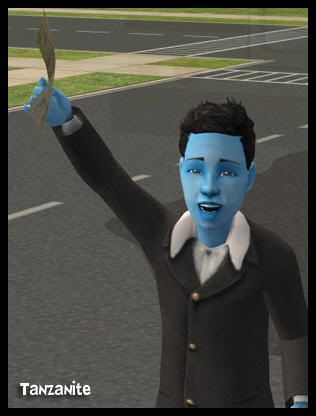 Bronx: Both my boys brought home their first A+ report cards today.


Bronx: And my lovely wife got promoted today too.
Rachel: Wow, that's amazing! Friday sure has been a great day for you all.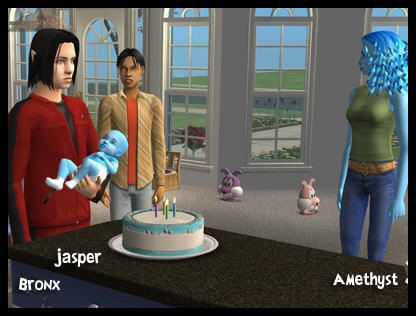 Bronx: Oh but we aren't done. It's Jasper's
Birthday
too!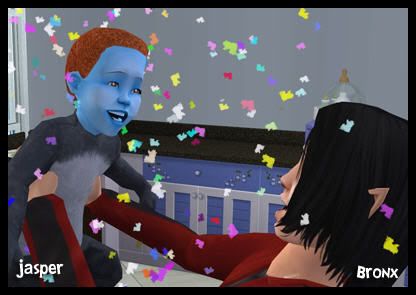 Rachel: What a cutie pie he is.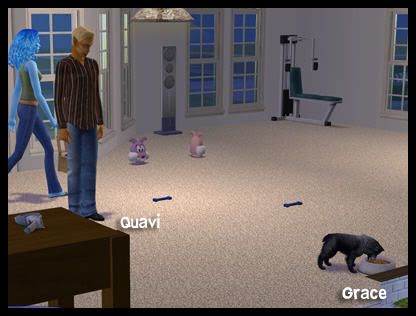 Rachel: OK, this is just weird.
Quavi
just walked in the house and has been standing there staring at Grace. How odd.
-The next day-


Rachel: Oh look
Tanzanite
is making some friends too. This family and their friends.


Rachel: Even little Jasper is making friends, granted it's with his own family dog, but you have to start somewhere.


Rachel: And Amethyst met this young lady today.
Me: Yeah, that's Emily, she's from Toddler Mania house.

Rachel: From what?
Me: Let's just say I've known her since she was a toddler.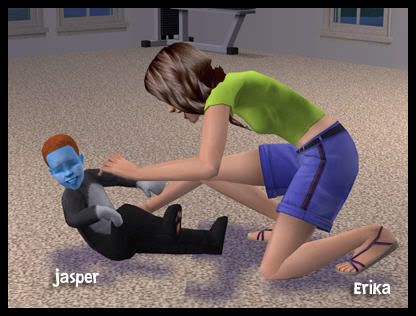 Rachel: Hey Erika!
Erika: Hi Mom! I thought I'd come over and see the new little one.
Rachel: Good idea. It is good to know everyone in your
neighborhood
. Well you two make friends dear.
-Awhile later-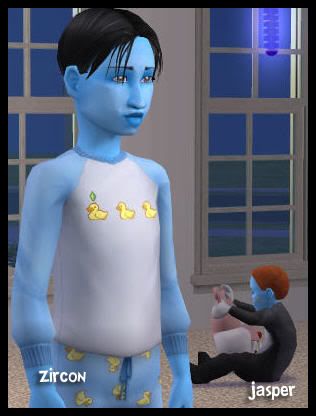 Rachel: Well Zircon the time sure did fly here. It looks like it's time to go. Where is everyone?
Zircon: Everyone but me and Jasper are sleeping.
Rachel: well tell
everyone
else I said goodbye. I'll see you all next week.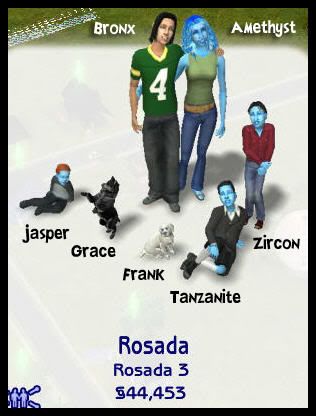 Points: Just 1 for Jasper.
Have you figured out the naming scheme for this house yet? It would be obvious if they would have some girls. I had to use

wikipedia

to get all three boys' names to fit it. I'll leave you with a couple funny pictures.

I know it's hard to tell, but Amethyst was in the shower and Bronx flushed the toilet. She jumped through the wall, outside.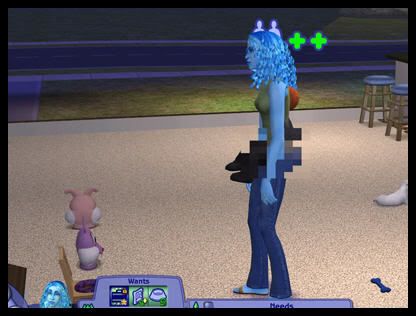 Interesting way to potty train Amethyst