Caligula 1 Round 2
Word Sure Does Get Around
Today we start another new house. This one belongs to Kalliope Caligula and Dakota Holiday. Dakota is another son of Andre Holiday. Kalliope is a quintuplet and her family came here when she was a toddler. These two met in high school and headed to Sim State together. They kept a very low profile there although I did manage to get a shot of them getting engaged. They are very sweet together and any time I don't have them engaged in an activity they are flirting or kissing. See (look below).

Sim Rachel: Hi there guys. Welcome back to Prosperity Point! We sure didn't see too much of you at Sim State.
Kalliope: Dakota is shy, he doesn't like to faunt our relationship. He just wants to learn and be a Mad Scientist one day. As for me, the more friends, the better. I really want to be Mayor of Prosperity Point. Dakota said he was nervous about you coming by and asked me to talk to you. I don't mind really.
Sim Rachel: No reason to be nervous. I'm sure once he gets to know me, he'll start to open up.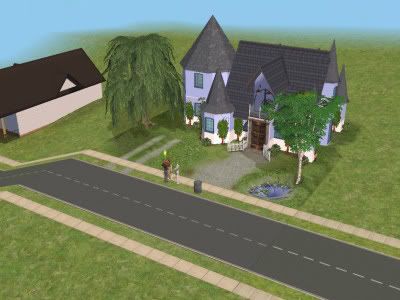 Sim Rachel: This sure is a lovely house you have here.
Kalliope: Well, thank you. We ordered it off the internet. Sort of strange I know, but it was so lovely.


Dakota: (in a hussed voice) Kalliope did you hear what Wen did? She's going around picking fights with people. She's supposed to be the head of the Welcome Wagon, what's with her?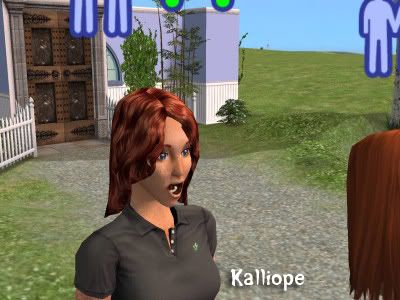 Kalliope: Oh MY!!!!
Sim Rachel: What's that Dakota? I didn't quite hear you.
Dakota: Nothing, really.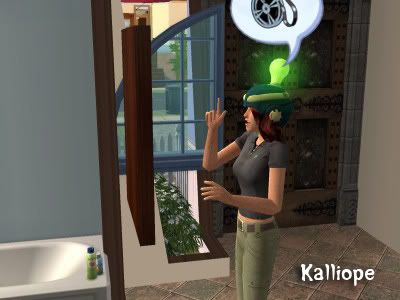 Sim Rachel: Kalliope, what are you up to now?
Kalliope: Gotta practice my speeches if I want to be Mayor ya know!
Sim Rachel: I see, where's Dakota?
Kalliope: Upstairs.


Sim Rachel: Whatcha doing Dakota? You aren't working on your skills!
Dakota: I have the flu. I need to relax. The doctor said I have to stay as comfortable as possible and not to be around anyone, even Kalliope.
Sim Rachel: I'd better take off then, I have a poor immune system. Bye. *runs downstairs and out the front door*


Sim Rachel: Hey guys, what are you all doing out here.
Benjamin: We're the Welcome Wagon, but these people aren't answering their door.
Sim Rachel: Dakota is sick with the flu. The house is quarentined until he gets better.
*group walks off dejected*


Sim Rachel: Kimberly Emmis, what is going on?
Kimberly: I came by to visit this new family. I heard about their wonderful internet house. I wanted to congratulate them.
Sim Rachel: Dakota is sick with the flu. So they aren't allowed visitors.
Kimberly: What? Don't they know I only stop by a few houses? Well, I'm outta here!


Sim Rachel: *creeps quietly back in the house to see if Dakota is better* Dakota is sleeping, that's good, hopefully he'll be better soon then. I wonder what's he's dreaming about


Me: Your daughter, Victoria.


Sim Rachel: What? How do you know that?


Me: I have my ways.

Sim Rachel: You sure do know a lot for a sim.


Me: Oh great this again!

Sim Rachel: Where did Kalliope go now?


Me: Check Bluewater, at Amelia's Closet.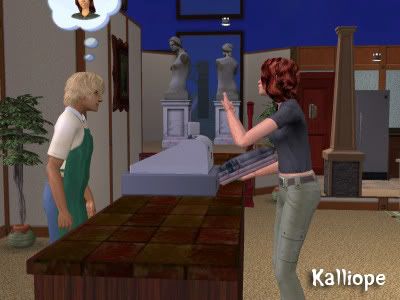 Sim Rachel: There you are. I thought you weren't supposed to be in contact with anyone while Dakota is sick.
Kalliope: He's all better now. I had been couped up for too long, I just had to get out. Plus tomorrow is our wedding and we need clothes.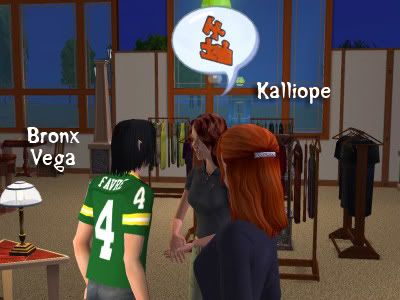 Kalliope: Yeah, Dakota really likes doing jigsaw puzzles. He's a geek but I love him.
-An hour later-


Kalliope: Really, so their gross earnings went up? Interesting.
Sim Rachel: Hey Kalliope don't you think you should head home soon.
Kalliope: I was so busy meeting people I almost forgot about my hair appointment. I'll see you at home.
-Another 2 hours pass-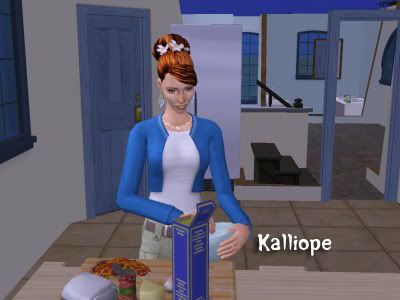 Sim Rachel: Oh Kalliope, what a lovely hair do you got for the wedding!
Kalliope: Thanks, I like it too.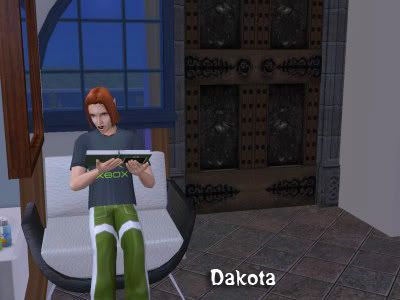 Sim Rachel: Dakota are you excited for the wedding tomorrow? Dakota? Hey Dakota!
Dakota: What now?
Sim Rachel: Nevermind, go back to studying.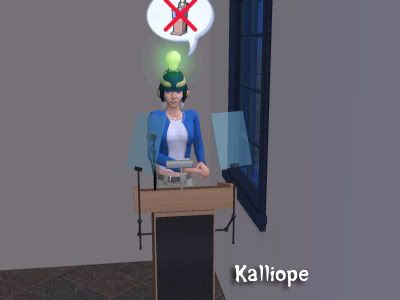 Sim Rachel: Kalliope, what are you doing now?
Kalliope: Rehearsing the vows.
Sim Rachel: At a podium?
Kalliope: Where else?
Sim Rachel: I suppose.
-The next morning-


Sim Rachel: Don't you both look lovely! And your house makes for such a pretty back drop! Oh it's starting.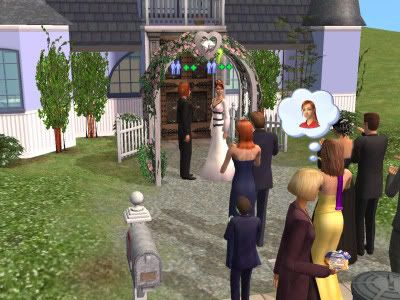 Sim Rachel: Yet another lovely wedding! Weddings and birthdays galour around here!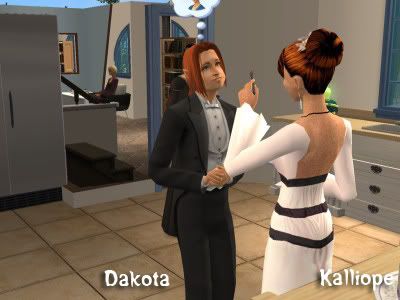 Jupiter: And when I'm president, everyone will be able to eat macaroni and cheese for every meal!


Me: Man that Jupiter is cute!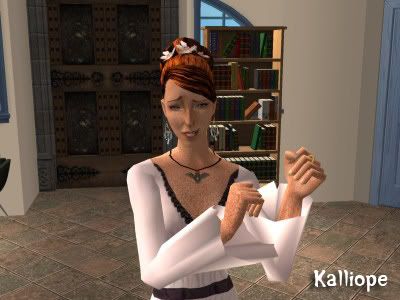 Sim Rachel: Get down Kalliope!!!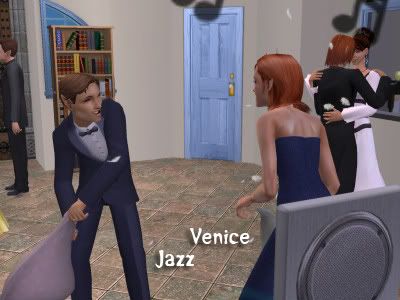 Sim Rachel: Ahh yes, the ritual pillow fight at the reception.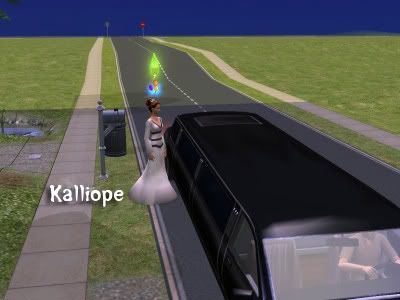 Sim Rachel: Great party Kalliope. Wait Kalliope, where are you going? Get in the limo!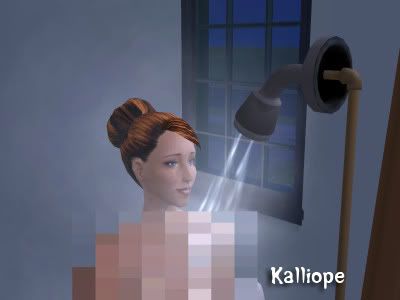 Sim Rachel: Seriously, you missed your honeymoon to take a shower!


Dakota: Why didn't you come on the honeymoon.
Kalliope: I wanted to make sure I smelled as sweet as roses for tonight.
Sim Rachel: *slides silently out of the room*
-The Next Day-


Dakota: Alright!!! I just got a promotion!


Sim Rachel: Looks like there's a little one on the way. Not too surprising.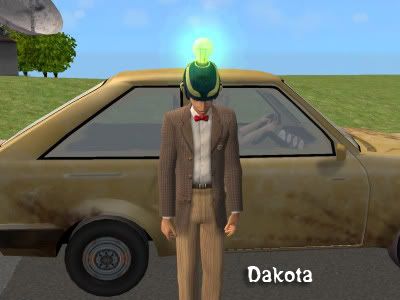 Sim Rachel: What's wrong Dakota?
Dakota: I just got demoted.
Sim Rachel: Oh no!!! Buck up, you'll get back on your feet.


Dakota: Yep Gordan, Kalliope is working her way up to Judge.
Me: Yep, Gordan Anderson is of the "Famous" Andersons from Pass a Sim. He just married in though.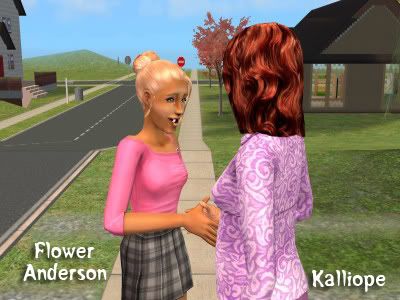 Kalliope: It's nice to meet you Flower!


Kalliope: And you Janson!
Sim Rachel: Making friends?
Kalliope: Working on it.


Dakota: I got my promotion!!!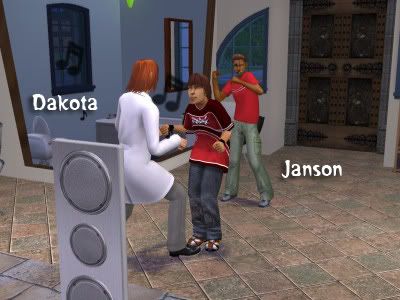 Dakota: Party time!!!


Sim Rachel: More visitors?
Kalliope: Of course! What else would I do during materity leave?
Sim Rachel: Rest?
Kalliope: Nahh.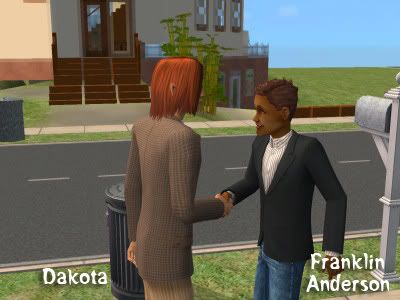 Sim Rachel: Dakota, even you're making friends?
Dakota: I need more for my next promotion.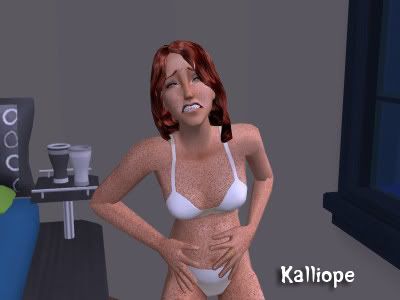 Kalliope: Eeeeeeeeeeeeeeeeeeeeeeeeeeeeeeeeeeee!!!!!!!!!!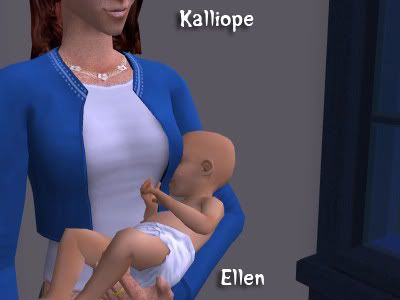 Kalliope: Here's are sweet baby girl, Ellen. Awww, she's shy like her papa.


Sim Rachel: She's adorable!!! All these Holiday kids are!!!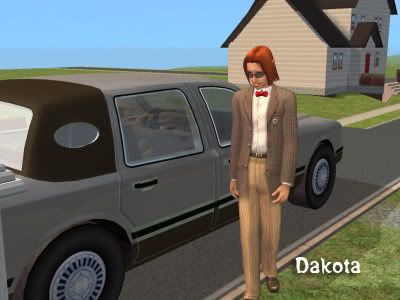 Dakota: Oh boy another promotion and...


... some beautiful flowers for my beautiful wife!


Kalliope: I'm a Judge!!!!!!!!!!!!!!!!!!!!!!


Sim Rachel: Oh, hey Venice! Did ya come over to meet your neice?
Venice: Yep, she's alright, actually pretty cute.
Sim Rachel: Wow, so you think you might want some babies of your own?
Venice: Heck no! No kids for me.
Me: We'll see about that. Moohaha!
Venice: What was that?
Sim Rachel: Nothing.


Dakota: And we powder the baby tushie.
]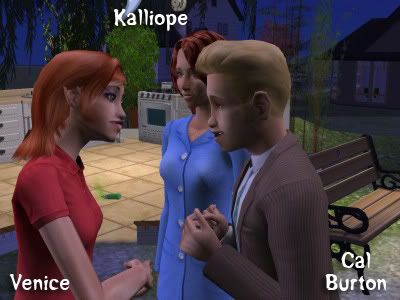 Kalliope:Venice this is Cal. I thought you two might get along.
Venice: Cal, such a strong name for a strong man. I've heard such wonderful things about you.
Sim Rachel: Excuse me, I'm going to be ill.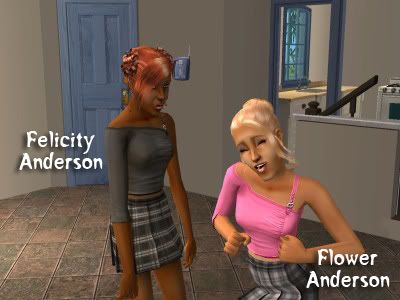 Sim Rachel: Flower, you sure are here a lot. Whose this you brought with you?
Flower: This is my cousin Felicity. We both want to get into this story.
Sim Rachel: Slight problem, they had a girl.
Flower: This time. No one around here just has one kid. I'm surprised they didn't have twins.
Sim Rachel: Wait, me too!!!


Sim Rachel: Wait I see a birthday cake. This can only mean one thing!


Sim Rachel: Happy birthday, dear Ellen!!!!!!!!!!!!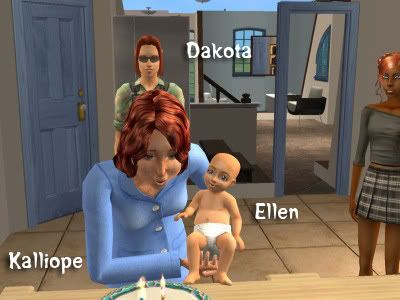 Me: One last look at an adorable baby!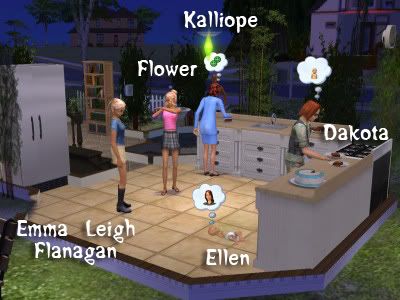 Me: Wait, she's still a baby. Time to change the diaper.

Me: Another try.

Sim Rachel: Dakota, she's adorable!
Dakota: Yes, she is and I'm going to teach her everything.


Dakota: Say Dada


Ellen: Naaahhhhaaha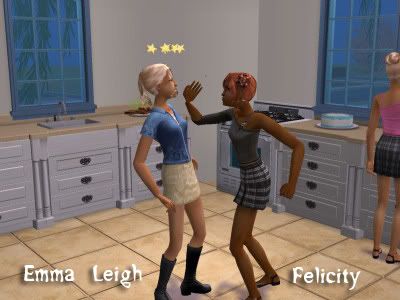 Felicity: We've scouted out this house to get in the story. How dare you try to too!!!


Kalliope: Go to the potty like a big girl Ellen.


Sim Rachel: Ahh, look Ellen's dancing!


Me: How approriate.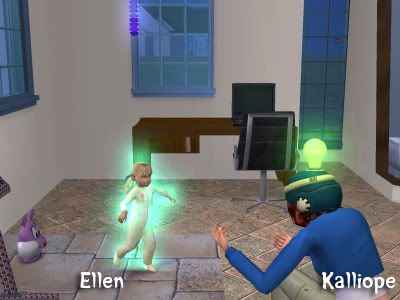 Sim Rachel: So sweet Ellen's first steps!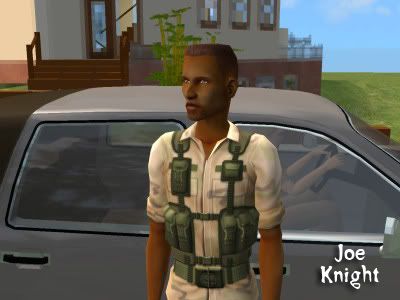 Sim Rachel: Hey look who Dakota brought home with him from work. If it isn't Joe Knight! Joe I heard you're getting into one of these new houses.
Joe: I hope so. Aracely and I are friends, we'll have to see if we get to be anything more.


Kalliope: So my sister-in-law Venice....


Kalliope: ...yeah, she's enemies with...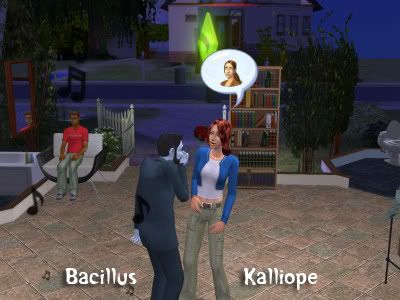 Kalliope: ... your friend Wen. Wen's picking fights all over the place.

Me:So that's where we'll leave the Caligula household, with the same gossip we started with.
Points: Just 1 for little Ellen.
I wonder if anyone will know what the naming scheme is in this house? It's hard without twins!