Te Waiata Round 2




The Fruits of Our Labor


This is another new house, yeah get used to that, there are a whole bunch more coming up too. This is the home of Danton Holiday, son of Andre Holiday, and Pania Te Waiata. Danton grew up poor but very loved by his father and siblings. Pania's family is from New Zealand and are Polynesian. The family came to Prosperity Point because who wants to live on a beautiful island when you can live in suburbia? Wait, what? O.K. I don't know why they came here. These two met in high school and hit it off. Danton asked Pania to go off to college together and she happily accepted. There they fell even harder for each other and are now engaged. Pania is a Romance Sim and Danton is Pleasure.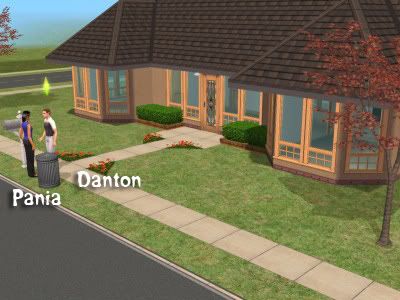 Sim Rachel: Hey guys welcome back from college. How was it?
Danton: It was good. Fun and we learned some stuff too.
Sim Rachel: Well, I would hope so. What a lovely house you two have found.
Danton: We like it, it's just the right size.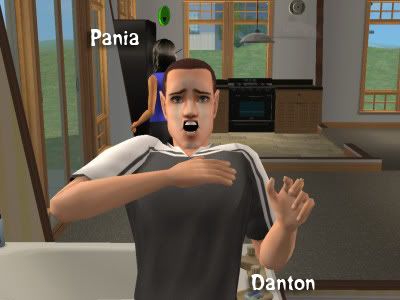 Danton: *Cough, cough, cough*
Sim Rachel: Oh no Danton, do you have that nasty flu that's been going around?
Danton: Seems so. Pania has it too. I think I got it at my brother, Destin's wedding.

Me: So this is how they spend their first day here. This and taking bubble bathes and sleeping. It's SO much fun for me.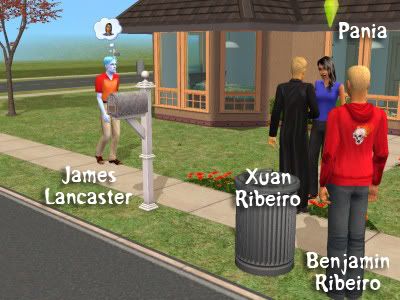 Sim Rachel: Ut-oh the Welcome Wagon is here and you're both still sick.
Pania: It will be alright, I'll just greet them and go straight back to bed.
Sim Rachel: Hopefully you haven't infected any of them.
-The next day-


Sim Rachel: Pania what are you doing out of bed?
Pania: We're both better now. Which means it's wedding time.
Sim Rachel: OH boy!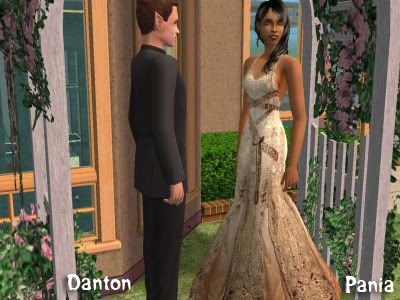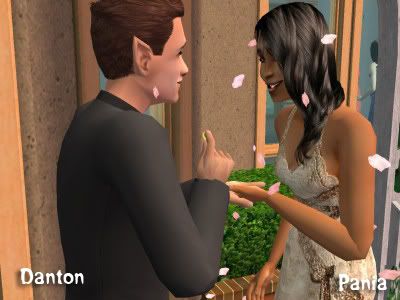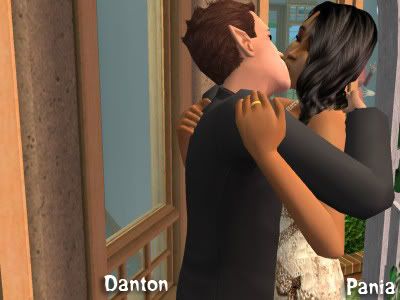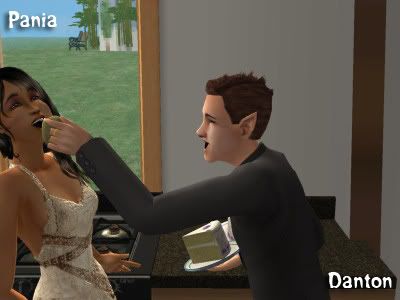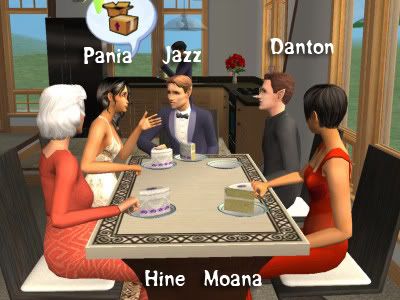 Pania: So you see we had to move away from New Zealand and come here.
Jazz: Ahh, it all makes sense now.
Me: Hine is Pania's Mother and Moana is her sister. Jazz and Dakota Holiday both either had or have the flu too, they were sent home promptly.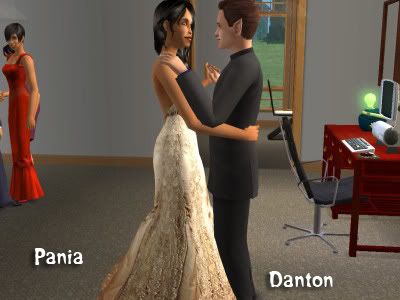 Sim Rachel: What a great party guys! Too bad Jazz and Dakota were sick so they had to leave early.
Danton: Yeah, I hope they get better soon that flu is rough. Well we need to get off to our honeymoon.
Sim Rachel: Have fun guys! I'll take care of the pants and get your mail while you're gone.


Sim Rachel: Hey you're back!
Danton: Yep. Thanks so much for looking after things while we were gone, but umm, please leave now. At least for awhile.
Sim Rachel: Sure sorry.
-A few hours pass-


Sim Rachel: Wow you two are both making candies now!
Danton: Yep, we both dream of being celebrity chefs. We want to have our own husband and wife cooking show, it should be pretty cool.
Sim Rachel: Sounds like it.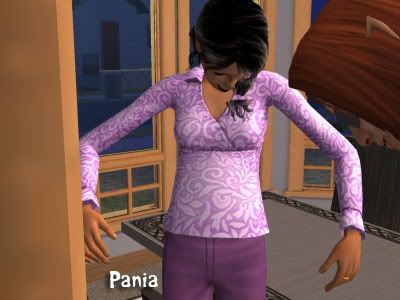 Sim Rachel: ut-oh Pania, this isn't going to help spead along your career.
Pania: No it won't, but I'll use the extra time off to gain more skills. I'm only missing one day of work anyway.
Sim Rachel: That's good.


Sim Rachel: What did you make there Danton? Looks like a burnt berry pie or something.
Danton: *daydreams about being a celebrity chef and totally misses the question*


Sim Rachel: Wait Pania, what is that? I think it's berry pie, but we can't risk it not being that.
Pania: No, too creamy for berry pie, I think it's cheese cake.
Sim Rachel: *Looks at me* Alright lady, I've had quite enough of you feeding every pregnant woman in Prosperity Point cheesecake so you can get more blasted twins!


Me: Look no one believed me when I didn't at Amethyst and Bronx's house when they had twins anyway, so I figure I might as well. I have all these fun naming schemes in my head and I want to use them. But really blame the readers, because they don't believe me.


Sim Rachel: Sure blame it on them.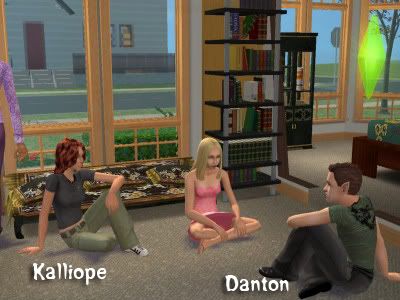 Danton: So soon we'll have our own show on the Yummy Channel and you ladies can watch and get all kinds of great cooking tips.
Sim Rachel: Trying to get viewers already Danton?
Danton: You can never start too soon. I'd hate for us to get canceled.


Danton: Baby you look so hot in that materity wear with you ginorous tummy. How 'bout a date?
Pania: You're too sweet.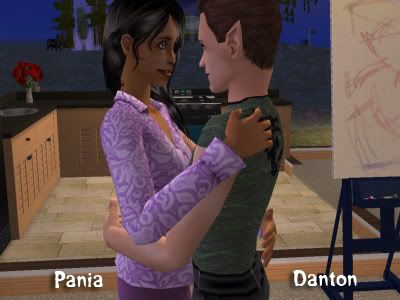 Danton: So what do you think we'll have a boy or a girl?
Sim Rachel: Or both?
Danton: What do you mean both?
Sim Rachel: Just wait, I know how it always seems to go around here.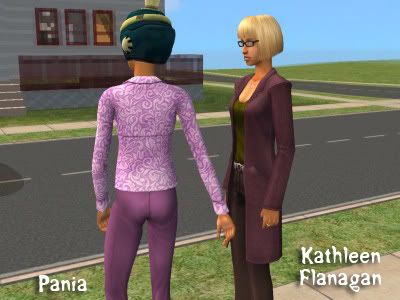 Pania: Welcome to our humble home Kathleen. Make yourself at home, I need to greet my mother as well.


Pania: So that Rachel woman thinks I'm having twins. She's pretty sure of it too.
Hine: Don't worry about it dear. I loved having you babies around, so I'll be more than happy to come over and help when ever you need me.
Pania: Oh thanks Mom. What about coming to live with us?
Hine: Maybe, we'll see dear.


Danton: ONe step closer! I'm now a Restruanteer!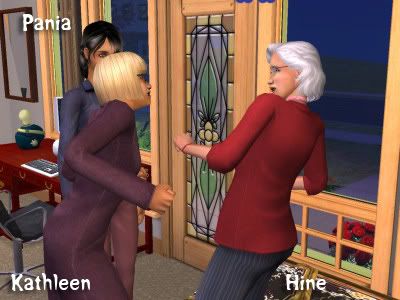 Sim Rachel: Oh no another random fight.
Kathleen: She DEFINATELY looks like she's having twins!
Hine: Are you calling my daughter fat?
Kathleen: And what if I am?
Sim Rachel: Hold on ladies, I think the debate can be settled, quick to the bathroom!
Hine: What?
Sim Rachel: Just follow me!


Pania: AHHHHHHHHHHHHHHHHH!!!!!!!!!!!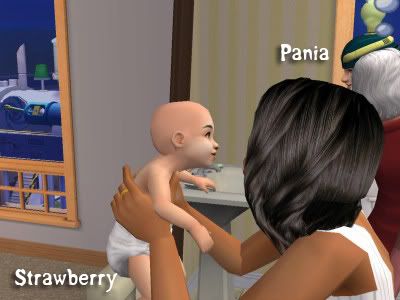 Pania: It's a girl, we'll call her Strawberry!


Danton: Our daughter is SO beautiful. *looks at Sim Rachel* And you said she was having...
Pania: AHHHHHHHHHHHHHHH!!!!!!!!!!
Danton: Nevermind.


Pania: And this is our son, Mango.
Sim Rachel: Wait isn't that a character's name from Saturday Night Sim? Like a weird dancer? It's been too long I don't remember exactly.
Pania: I don't know about that. We just really liked the name.


Danton: Do you like what I did with the nursery?
Sim Rachel: That's an interesting color scheme you've got going.
Danton: Thanks!
Sim Rachel: *under breath* Maybe you should stick to cooking.
Danton: What's that?
Sim Rachel: Nothing, don't mind me.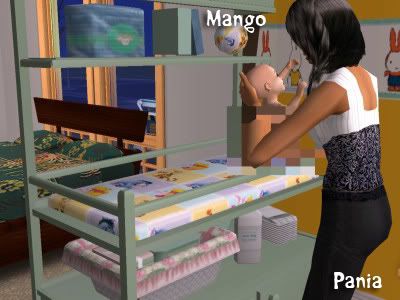 Sim Rachel: Pania, why isn't Danton helping change the diapers? That's like the third one I've seen you do now.
Pania: He said he's really afraid of it.
Sim Rachel: Afraid of a diaper?
Pania: Yep, that's what he said.


Me: You would think he was the romance sim. FYI Pania didn't have negative memories of getting getting married or having the babies.

Pania: what was that? Something weird on the radio.
Sim Rachel: Yeah sure, that's less weird than a giant bodyless voice.
-Pania & Danton head off to work leaving Hine and the Nanny to care for the babies.-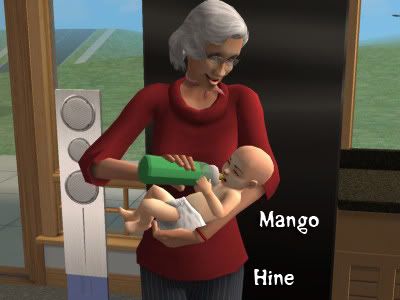 Sim Rachel: Hine, you're such a wonderful grandma. What about this moving in to help out idea.
Hine: It's warming on me.


Hine: What nice Nanny lady, I don't see anything over there.
*Splash*


Hine: Alright Nanny lady, my daughter and her husband are paying you good money to watch over the babies, NOT pull pranks of visitors!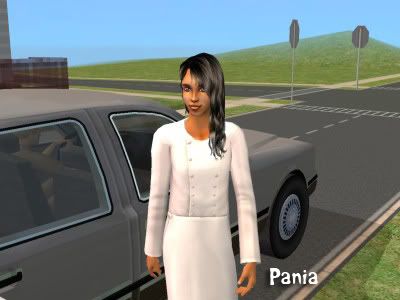 Pania: I'm a Restruanteer too!!!!!!
Sim Rachel: You're both on your way.
-The next day-


Sim Rachel: Wips out nanny notebook. Nanny actualyl stopped pulling pranks long enough to bathe both babies. Wait now she's putting Strawberry on the floor and...


...smacking Hine around. And...


... attacking her. I REALLY don't think this is what you were hired for. You're on the clock you know?


Hine: Take that! That will teach you to mess with Super Grandma! Now shape up or you're out of here.
-Later that evening-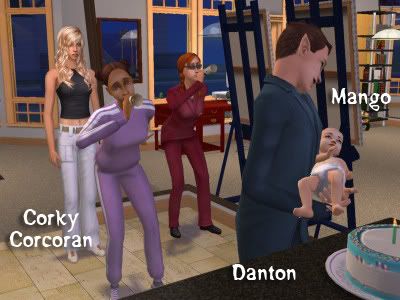 Sim Rachel: Happy Birthday Deeeaaaarrr Mango! Happy Birthday toooooo youuuuuuu!!!!!!!!!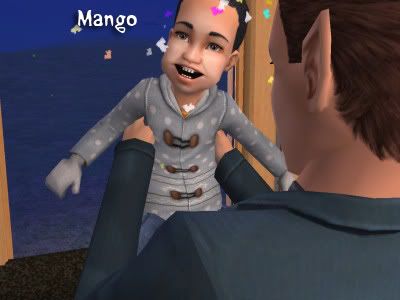 Sim Rachel: *clears throat* Happy Brithday...


Sim Rachel: Despite that bad bought with the flu at the beginning of the week, things seem to be going well her. Danton and Pania are advancing at work and the twins are learning their skills. Hey Pania, any luck getting your mom to move in yet?
Pania: No, I'll work on it next week. She's here all the time anyway, she might as well.
Sim Rachel: Well good luck and stay well.



Points: 2 Points as usual, for 2 new sims