Vega House 3 - Round 2
We are the World
Alright, I swear we're almost done with these new houses, but alas, not quite. This one belongs to England and Rosario Vega. No they aren't married yet. So why the same last name for two unmarried sims? Well, England's family name has always been Vega, however Rosario's family name was Vegea in the old country and got changed when they moved here. So, no incest here, nope, no way. These two met at the very end of high school while England was living with his Mom, Coqui and his two triplet sisters. They hit it off very fast (3 bolt couple) and headed to Sim State together. Now they're back to Prosperity Point to make it on they own.

Sim Rachel: Hey kids, what a lovely house you have.
England: Well thank you we like it. It's from the internet like all the other houses here. It keeps it from turning into suburbia hell where every house is exactly the same.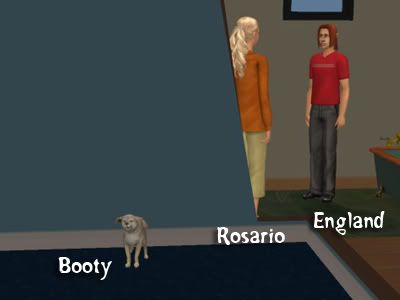 Sim Rachel: Who is this pup?
England: THat's Booty! I picked her up at one of my trips to Planetary Pets. That Rose is a heck of a sales woman. Booty is an elder, but she's a sweet dog.
Sim Rachel: Nice name.
England: We didn't pick it.


Sim Rachel: Playing some video games Rosario?
Rosario: Nope looking for a job. Uh here's one in the military track. I want to be a general one day.
Sim Rachel: Good for you Rosario! Hey I hear the Welcome Wagon outside.
Rosario: Oh boy, I'd like to make them my friends!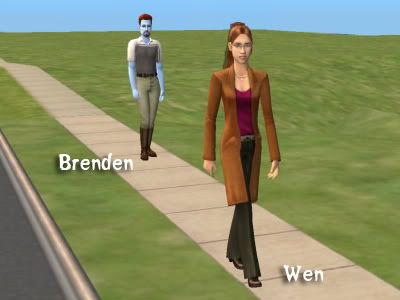 Sim Rachel: Wen you're back! What happened to the Womrats?
Wen: It was horrible! We had about 20 of them and I left Vincent to feeding the babies and next thing I know there was that green stink coming from all the babies' cages.
Sim Rachel: Oh no, that's terrible!
Wen: I know. We're trying again with more supervision this time.
Sim Rachel: Good idea.


England: Rosario I love you so much. I thought this was perfect time to ask you here in front of the Welcome Wagon, to marry me?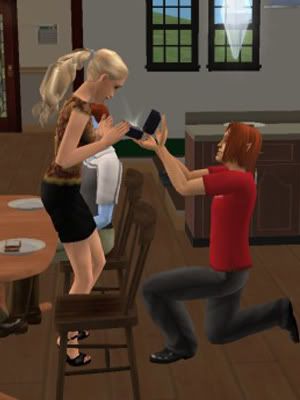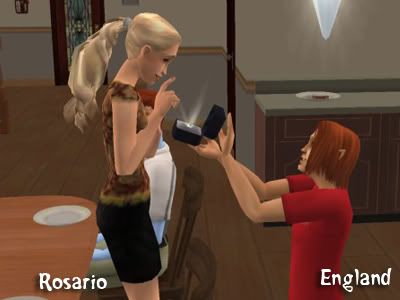 Rosario: Yes, a million times yes! I'm so glad you did this in front of these people we hardly know. How perfect!
Sim Rachel: *looks at me* Does this seem weird to you?
Me: Ah, yeah.
Rosario: Quick let's call the guests and get this show on the road!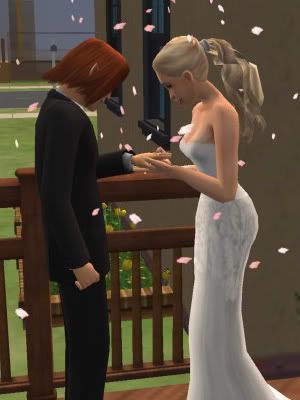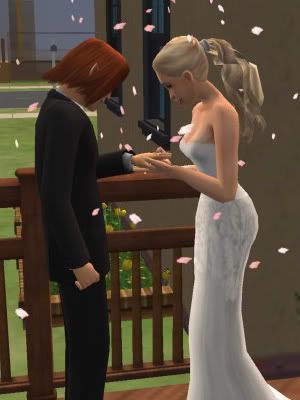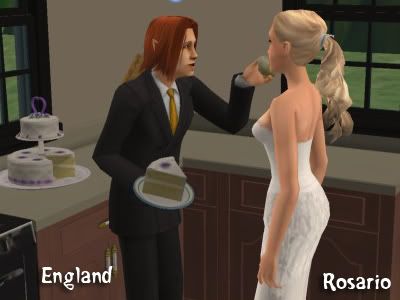 Me: Ahh our tradional wedding pillow fight.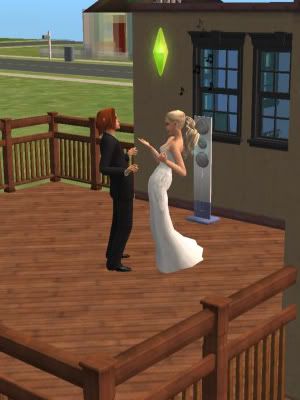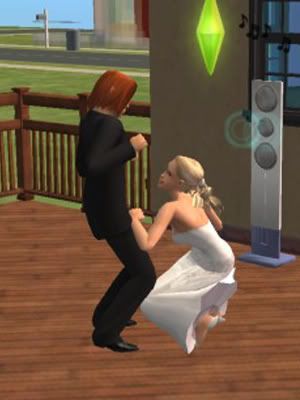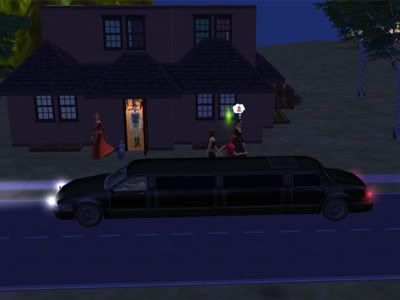 Sim Rachel: And they're off!!!

Me: What are you doing?
Sim Rachel: *innocently* Nothing.
Me: If they didn't invite you in, you shouldn't be watching them through the window. And ahh this is a second floor window in case you hadn't noticed.
Sim Rachel: Yeah, I just shimmeed up the gutter and across this edge.
Me: Get down and let these two have some time to themselves. Gezzz! What's wrong with you?
Sim Rachel: Sorry.
-The Next Day-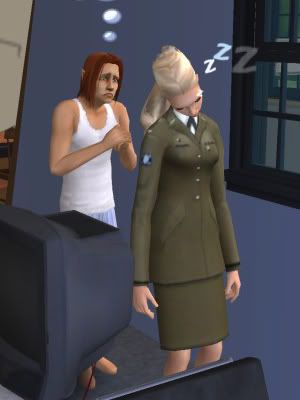 SimRachel: England, what's wrong with Rosario?
England: She just got home from work and she's SO tired. She keeps trying to go to that engergizing gizmo and falling asleep standing up. It's happened 3 times!
Sim Rachel: Let her sleep a few minutes, then she should make it.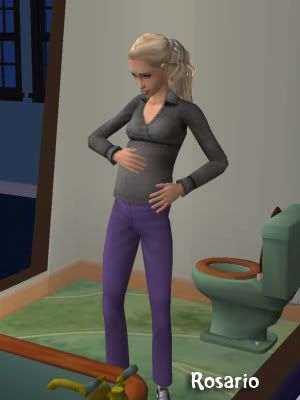 Sim Rachel: Well, I guess we know why you were so exhausted then.
Rosario: Yep, sure do.


Rosario: Time to wash Booty.
Sim Rachel: Does that sound funny to anyone else?
Me: Yes, very.
-A Couple Days Go By-

Rosario: Rachel looks like you got back just in time.
Sim Rachel: Why's that?
Rosario: The baby's here, NOW!


Rosario: Eeeeeeeeeeeehhhhhhhhhhhhhhhhhhh!!!!!!!!!!!!!!!!!!!!!!!!!!!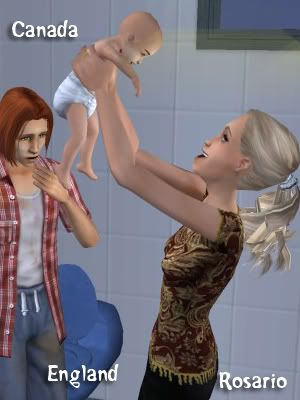 Rosario: Welcome Canada!
Sim Rachel: And?


Rosario: And nothing, just one.
Sim Rachel: *looks at me* Wow, you're actually resisting temptation. I'm proud and amazed

Rosario: Alright a promotion!!!
Sim Rachel: Great job, keep it up. You'll be a general in time at this rate.


Sim Rachel: Having some company England?
England: Yeah, Rosario needs some more family friends so she can keep climbing the military career ladder.

Me: Gratuitous Jupiter (cutest kid ever) shot.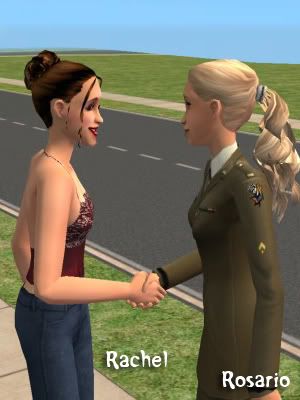 Rosario: THanks for coming for Canada's 1st birthday party.
Sim Rachel: Are you kidding? I wouldn't miss a Prosperity Point birthday party!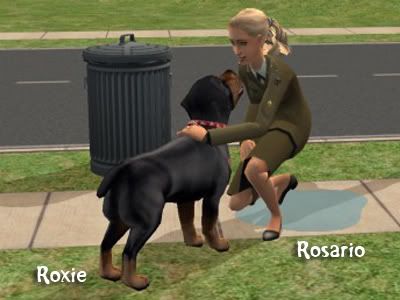 Rosario: You're such a good dog Roxie.


Sim Rachel: What a lovely little girl you have there. You can tell she's a Vega.
Rosario: Yeah, either way she's a Vega.
Sim Rachel: I mean England's daughter.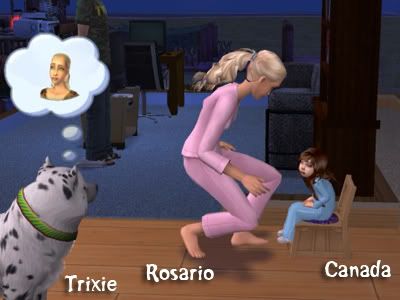 Rosario: Things are pretty normal round here. Potty training...


...and learning to walk...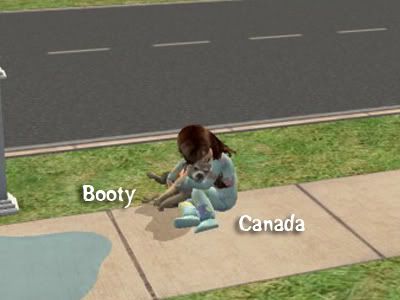 ... and puppy love.


Sim Rachel: Well so this is where we'll leave things. England is practicing his speeches in hopes of furthering his political career....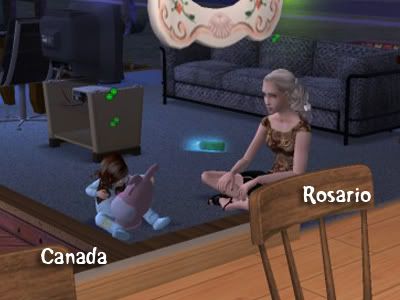 ...while Canada and Rosario play with the Charisma bunny. A lovely family really.

Points: Only 1 for Canada, I was good and stuck to the cheesecake rule, only single births. This family naming scheme should be pretty obvious.