A Little Friendly Competition


Last time Bethany & Zeno welcomed a second set of twins: Live and C. Crows after two of my favorite bands. They also welcomed two cats, Cleo and Cymmi. Their eldest child, Jewel, grew to a lovely teen and left for college while the younger four all grew to children. Zeno became education minister and Bethany found out there was another baby on the way.


Rachel: Wow this house is still bursting at the seams, even with Jewel away at college.
Bethany: What can I say, my husband wants a big family.
Rachel: So do you think this one will be your last?
Bethany: I hope so, this house just isn't big enough.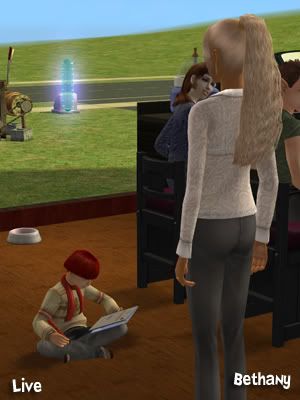 Live: Mommy, where's Wisconsin on the map?
Bethany: It's right up here, in a very cold part of the US.
Live: Where are we?
Bethany: Way over here by Sim City in Prosperity Point.
Live: Oh, OK.


Rem: Guess what.
Rachel: What?
Rem: It's my birthday.
Rachel: Well Happy Birthday little man.


Rachel: Rem you have a twinkle in your eye there. What's running through that mind?


Rem: A lot of money, Simoleons even.


Rem: And I really hope to get it by having 5, count them 5 Top-Level Businesses!


Me: *bangs head on desk* Why me!?!?!


Rachel: *clears throat at me* That sounds great dear.


Sarah: Hey, it's my birthday too, don't forget about me!
Rachel: Wouldn't dream of it dear. Blow out those candles.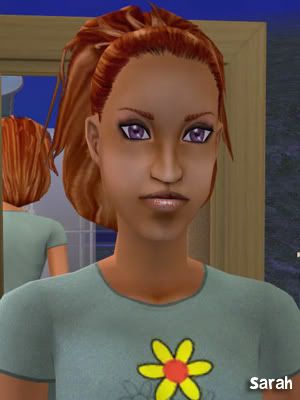 Rachel: Wow Sarah, you're. . . beautiful!
Sarah: Hey, don't sound so surprised.
Rachel: Sorry, it's just that you were a late bloomer, it's nothing personal. So what do you want out of life?


Sarah: Friends! There's nothing better.


Sarah: And I'd love to be Mayor!
Rachel: Very nice.


C. Crows: Mommy, where do babies come from?
Bethany: Why don't we stick to your homework for now.
-The next day-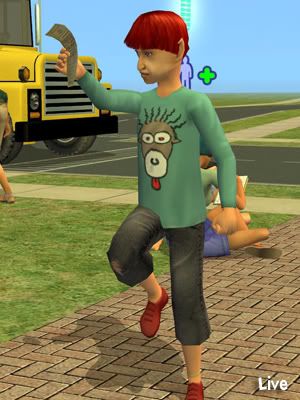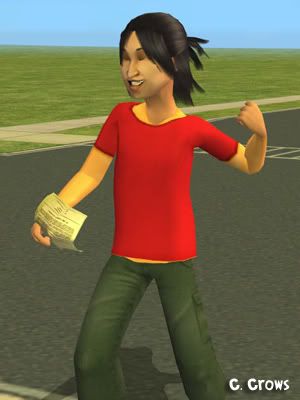 Rachel: Looks like all the studying paid off. Way to go boys!!!


Bethany: Ahhhhhhhhhhhhh!!!!!!!!!!!!!!!!!!!!!!!
Rachel: Baby on the way!!!


Rachel: Awe, the baby has the same Ribeiro violet eyes as Jewel, Live and Sarah. So what'd ya have and what's his or her name?
Bethany: It's a boy and we named him, Tunstall after a musician I love named KT Tunstall.
Rachel: Very nice.
-A few days later-


Bethany: Boy how time flies when you have a ton of kids!
Rachel: *Laughing* Happy Birthday Tunstall!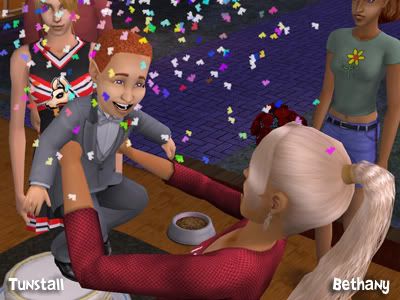 Rachel: What a cutie pie. A definite mix of both parents.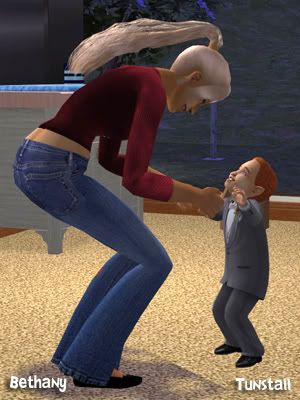 Bethany: OK, now take a step for Mommy, like a big boy.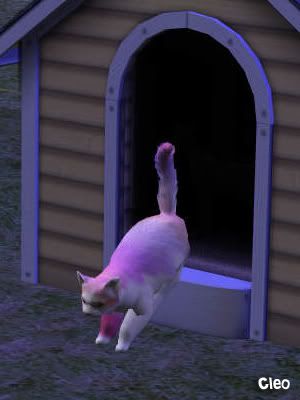 Rachel: Wait a minute both of the cats were just in the house?


Me: That means kittens are on the way.


Rachel: Sweet!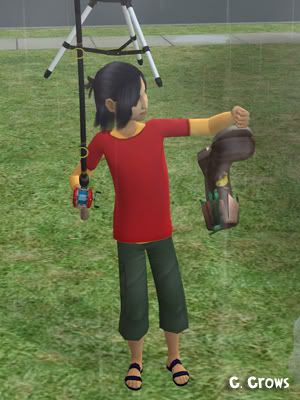 Rachel: C. Crows, what do you think you're doing fishing in the rain?
C. Crows: Well, we just got this pond here and I had to try it out. Look I caught a boot. I rock!!!
Rachel: Yes, you do.


Rachel: Looks like the rain stopped.
Live: Sure did and look I caught an actual fish.
Rachel: Do I sense some twin sibling rivalry?
Live: Well, guess what.
Rachel: What?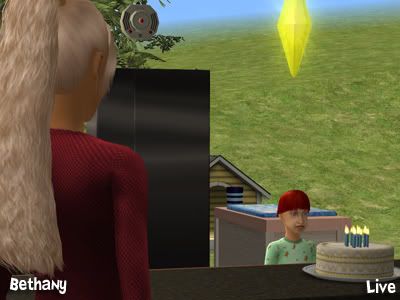 Live: It's our birthday and I win! I get to grow up first!!!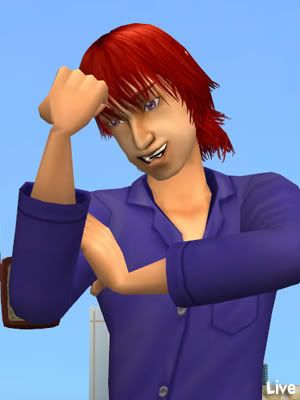 Live: See how strong I am. I'm stronger than C. Crows.
Rachel: That's nice dear, but what do you want to do with your life?


Live: I want friends just like Sarah does.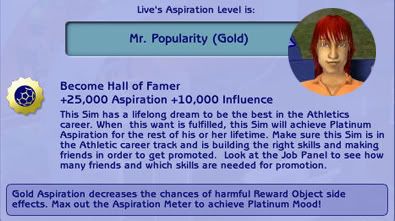 Live: But I want to be an athlete not a stupid politician.
Rachel: OK.


Rachel: C. Crows, I almost missed your birthday. What are you doing?
C. Crows: It's not that big of a deal.


Rachel: Well, what do you want in life?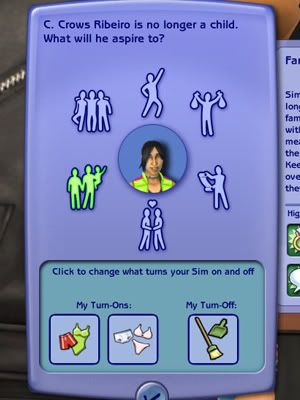 C. Crows: It's like Dad told me, "Families all that matters."


C. Crows: And I want to protect them by becoming Captain Hero!
Rachel: Well that's wonderful. I just hope your mom has retired by then.
C. Crows: Why?
Rachel: Oh. . . nevermind.


Rachel: Wow Sarah that's one heck of a fish!
Sarah: Yeah, my brothers were trying to say a girl can't really fish. Ha!!!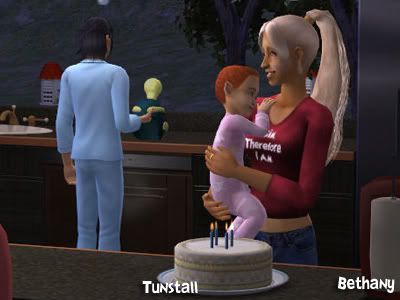 Rachel: Wow, another birthday! Happy birthday little man!!!


Rachel: Oh yeah, you're Zeno's son, no doubt about it!
Tunstall: Yay!!!!


Live: Look at how tough I am! I'm the strongest of all the Ribeiros!
Rachel: That's nice, dear.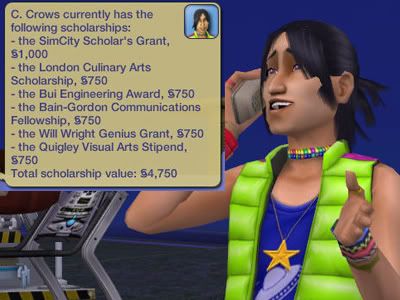 Rachel: I guess time really does fly!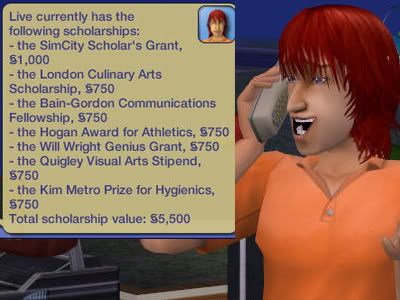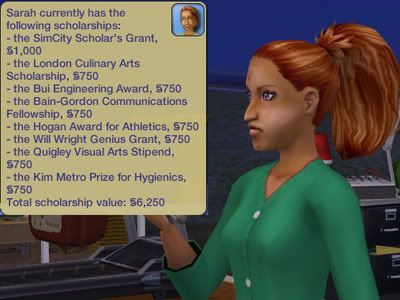 Rachel: Great job kids!
Sarah: Ha I win! I got the most scholarships!
Rachel: Not everything is a competition.
Sarah: Yeah, but this is!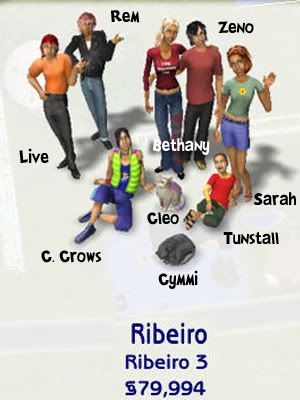 Me: And so ends another round at the Ribeiro 3 house.
Points: 2
1 for money
1 for Tunstall