Strangely

Familiar


Last time Aquamarine and Zachary spent their time raising their 6 kids, that's right 6. The 4 oldest all became teens and dated, a lot. Especially Royal who wants 50 1st dates. They all headed off to college at the end of week leaving the youngest set of twin (there are 3 sets), Scarlet and

Burgandy

. Aquamarine and Zachary are looking forward to a quite house this week.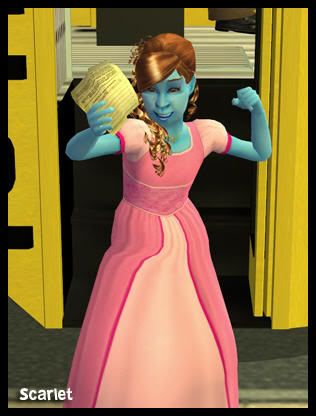 Scarlet: YES!!!
Rachel: Welcome home Scarlet! You must have brought home an A+. Nice work!


Rachel: Congrats on the promotion and the quiet house.
Zachary: Well thank you Rachel. We are

rezaling

in the silence or, near silence at least.
Rachel: I bet.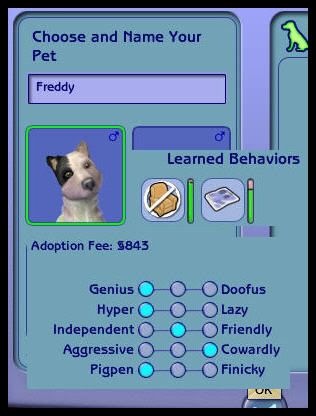 Zachary: But we have decided to adopt a couple dogs. Aquamarine still wants the

pitter

patter of little feet, even if they are technically paws.


Zachary: Um, excuse us officer. We're sorta in the middle of something here. How 'bout you just leave the dog in the living room?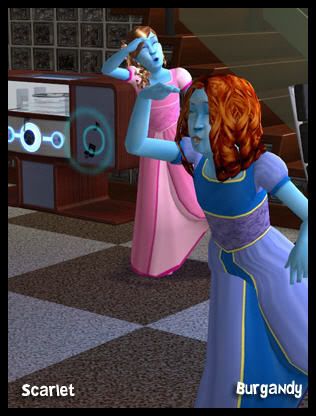 Burgandy

: Let's

smustle

!
Me: I loved this, they decided to do it on their own and they are so cute. Apparently the

Rosada's

like to

smustle

, cause their siblings did all the time too.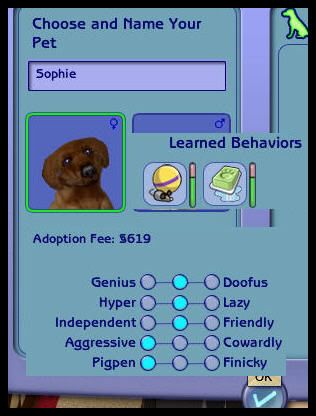 Rachel: Welcome Sophie!


Rachel: Hope no one is being interrupted this time.


Rachel: Nope, guess not.


Burgandy

: They all look so yummy Daddy.
Zachary: I know dear. Don't tell anyone but every once in awhile, you can snag one.


Burgandy

: *giggles*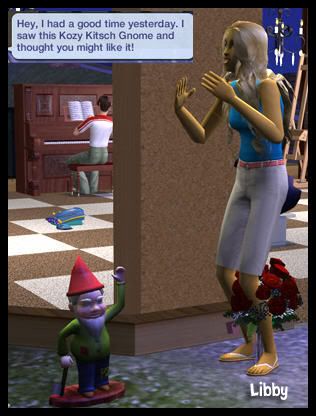 Rachel:

Umm

, Libby. Royal doesn't live here anymore, but they'll gladly accept the garden gnome.


Rachel: OK,

Sariss

, Navy isn't here either. You live with him. . . at college.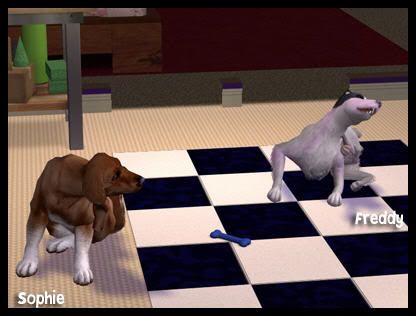 Rachel: Well the dogs sure are in sync but they hardly know each other.
Aquamarine: I know, I'm trying.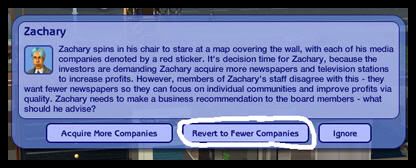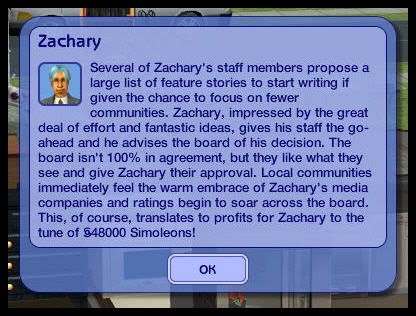 Rachel: WOW, nice going Zachary!!!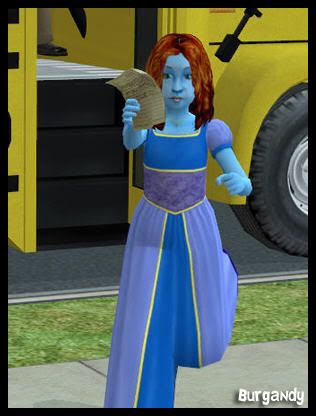 Burgandy

: Mommy, Mommy, I'm smart too!!!
Rachel: Nice going

Burgandy

!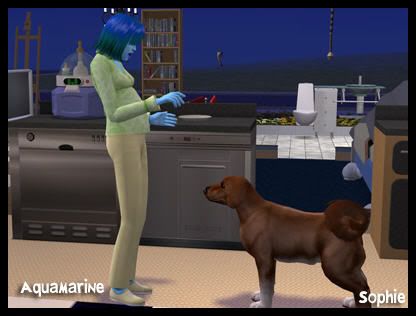 Me: *Gasp* I didn't even hear the chimes. Darn that Risky

WooHoo

!
Aquamarine: Oh crap! We were trying to get you pregnant Sophie, not me.
Rachel: Congrats Aquamarine! So will you be eating any cheesecake?
Aquamarine: Um, no, we're trying to help with the limiting the population.

Emphasis

on the word "trying".


Aquamarine: Good boy!!!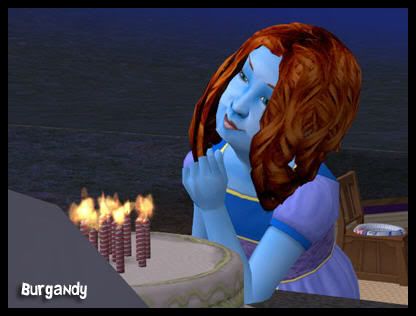 Burgandy

:

Yay

it's my birthday!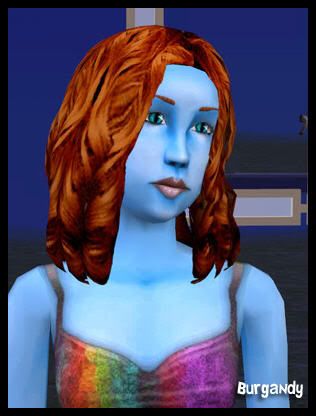 Rachel: A beautiful girl turns into a beautiful young woman. So what are you interested in?




Burgandy

: I want to know everything and how do I plan to do that, you ask.
Rachel: Well, I was going to ask.




Burgandy

: By being a Space Pirate of course.
Rachel: What else?


Burgandy

: OK,

sarcasm

isn't nice.
Rachel: Sorry.


Rachel: Make a wish Scarlet.


Rachel: What's your focus in life?


Scarlet: Pleasure please.


Scarlet: And I'd like nothing better than to play video games all day.
Rachel: You and me both.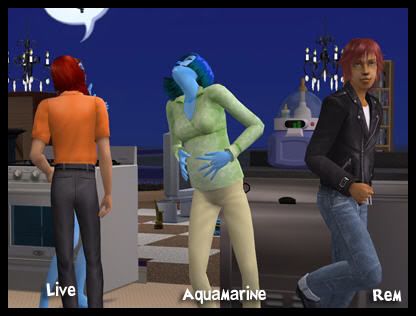 Aquamarine: It's coming!!!!


Aquamarine:

Hee

Hee

Whoo

!


Aquamarine: This is our son, Forest.
Rachel:

Ummm

, what's that behind you? Wait a minute, rewind.

Me: No way!!! Just when I think this game can't surprise me, it does.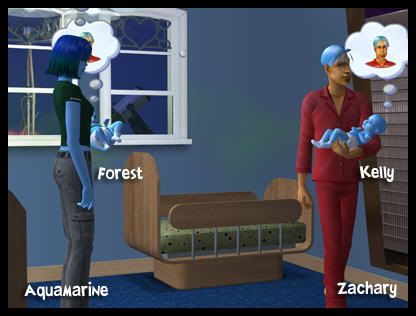 Aquamarine: Something seems

strangely

familiar here.
Zachary: Well this is our daughter, our last daughter, Kelly.
Rachel: How perfect, 4 boys and 4 girls. And it's nice that you two can work together.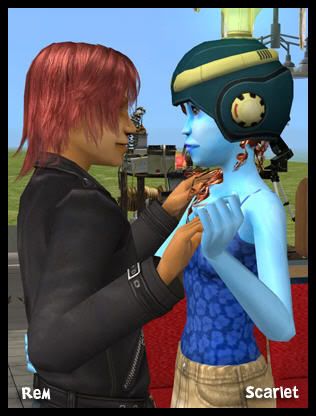 Rachel: Oh

Scarlet

, are you and Rem

Ribeiro

hitting it off?
Scarlet: Shh, on a date here.
Rachel: Sorry.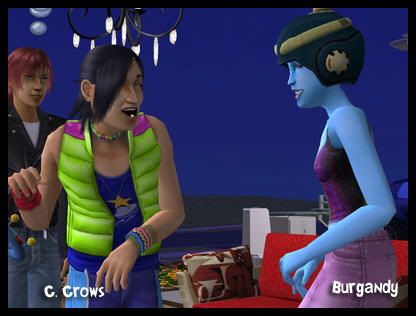 Burgandy

: Oh my gawd Rachel this C. Crows is fine and fun!
Rachel: So you like each other.


Burgandy

:

D'ah

!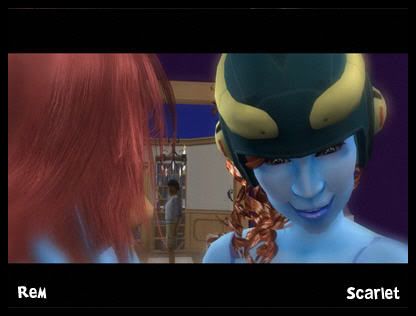 Rachel: Well that

answers

that question. Miss Scarlet does have a love connection too.


Rachel: Speaking of a love connection, are those

doggie

chimes I hear?


Rachel: Scarlet, you look so natural taking care of your little sister. Do you want any of your own?
Scarlet: One might be all right, not a herd like my parents had.
Rachel: Probably a better idea anyway.


Rachel: C. Crows is back.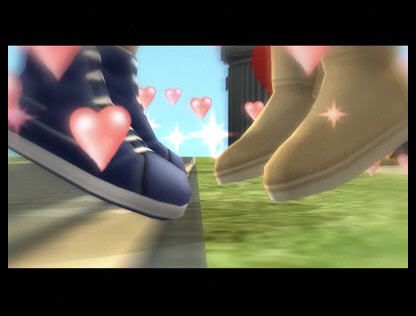 Rachel: I love first kisses.


Aquamarine: My baby girl is growing up. *sniff*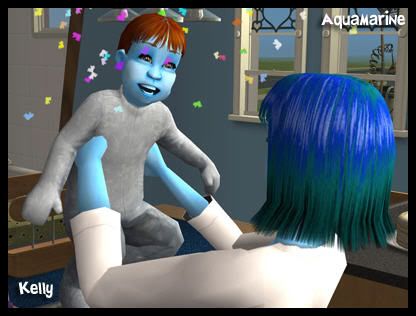 Rachel: Awe, she's a cutie. Spitting image of

Burgandy

at her age.


Aquamarine: My

youngest

baby's birthday, I don't know if I can handle this.
Rachel: You'll be all right, it was bound to happen.


Rachel: Welcome to

toddlerhood

Forest.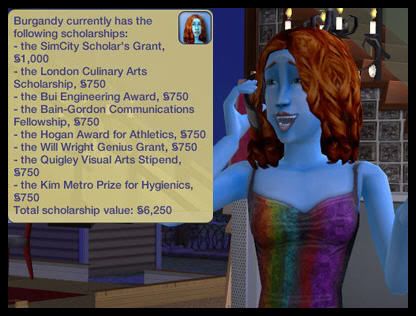 Rachel: I think we all know what this means.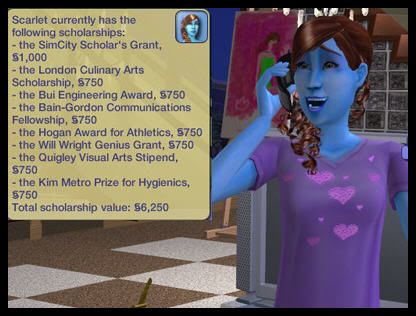 Rachel: Have fun at college girls, and great job on the scholarships!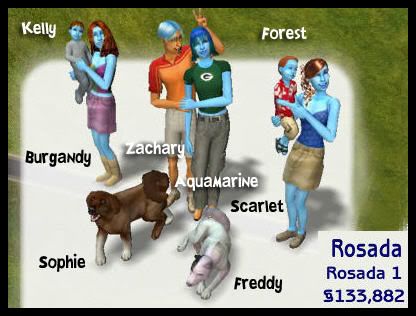 Points: 8
2 for the babies
6 for money