5 Weeks Left

Previously on LOST, man I did it again. Last time at the Ribeiro house, Sawyer and Ford grew to children. Baby daughter, Sun, was born. Aimee got a promotion at work before becoming pregnant again, once again putting her LTW of a Hall of Famer on hold. Xuan turned out to be a great father and has really taken to his daughter. Aimee gave birth to yet another set of twins, Libby and Kate. Finally Xuan got a promotion working towards his LTW of Chief of Staff.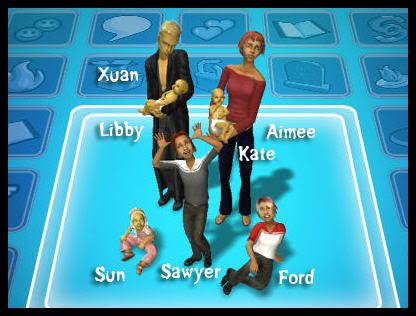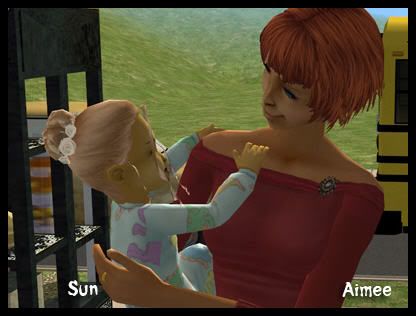 Rachel: Hey Aimee! How's life going?
Aimee: Good, good. I'm off to work for the first time in a long time. Gotta get up to Hall of Famer. Just snuggling Sun before I go.
Rachel: So you're leaving Xuan alone with a toddler and 2 infants?
Aimee: Yeah, he'll be fine.
Rachel: Sure but will the girls?
Aimee: *laughing* Yes. Gotta run.
-A Couple Hours Pass-


Rachel: How's it going Xuan?
Xuan: Good. Lots of diapers and bottles but nothing I can't handle. I just love my girls so much.
Rachel: Well that's great. So do you think you'll have any more?
Xuan: I'd like to have a son of my own but Aimee really wants to get back to work so I think the twins will be our last.
Rachel: I don't really blame her. She's had 7 kids already and her main focus isn't even family. Hey do you hear something in the kitchen? ... I'll check it out.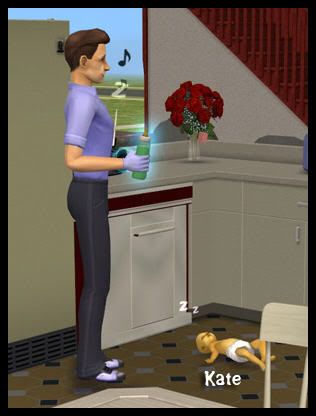 Rachel: Ahh, I see you got a trash compacter and someone put Kate in front of it so the maid can't get to it. He's having a royal fit. This seems oddly familar, like I've read about this somewhere, hum. Oh well.
Xuan: I'll be right out to get her since your arms must be broken.
Rachel: No, they're OK.
Xuan: Nevermind.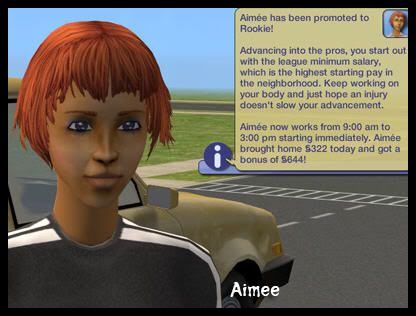 Rachel: All right a promotion Aimee! Way to go!!!
Aimee: Thanks and I'm actually not pregnant!
Rachel: Awesome!
-A Few Hours Later-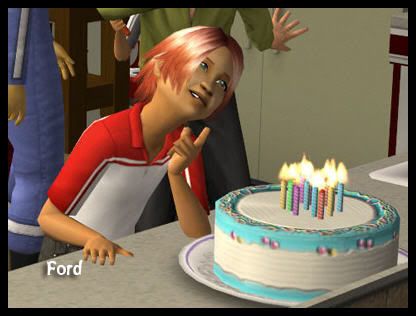 Ford: I wish for world peace and for great TV shows!
Rachel: That's sort of an unusual wish, but OK.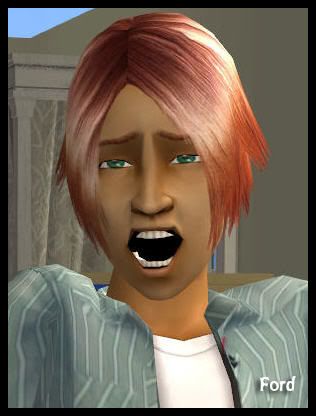 Rachel: What's that face for?


Rachel: Oh no, the FLU is back!!!!

Me: Wait, I know I checked this house. No pop ups that and anyone was sick! Quick someone tell all the visitors to leave before someone gets sick.

*Everyone stands there dumb-founded*
Rachel: You heard her, get them out of here! Ford, go to bed, NOW!!! I'd better go too.

Me: You're immune, it's OK.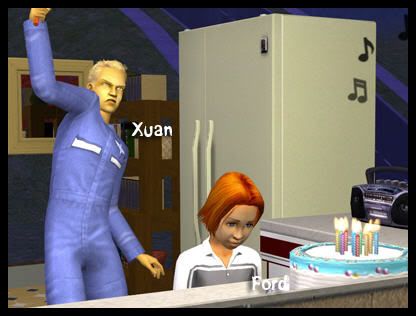 Rachel: Sorry Ford, everyone had to go. You can have a quiet birthday. Xuan sure is excited about it.
Ford: *sounding let down* OK.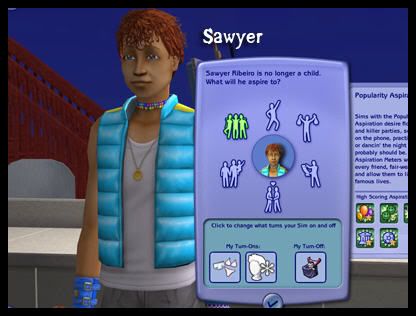 Ford: Well, I'd really like to be Popular now.
Rachel: That's not so bad. What do you really want in life.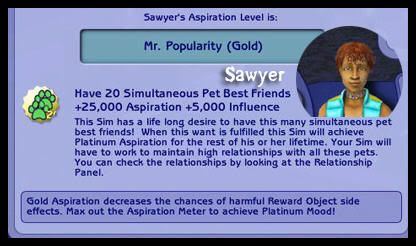 Ford: To have 20 Pet Best Friends.
*Very loud thud*
Rachel: Big giant voice in the sky, are you OK? Lady? Annoying Lady? Hum, not sure what happened there.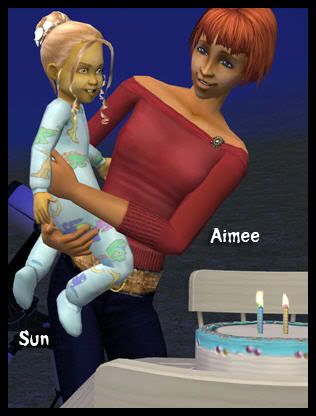 Rachel: Wow another birthday. *signing* Happy Birthday dear SUN!!!


Rachel: Sun, you sure are a cutie pie.
Sun: *giggling* Thanks.
-A Few Hours Pass-



Rachel: Cirous averted.
-The Next Day-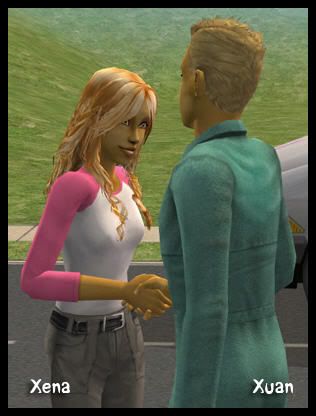 Rachel: Xuan, who is this?
Xuan: This is Xena.
Xena: Hi! I'm new around here. You know my twin sister Xara.
Rachel: Oh yeah, I did meet her. You too sure are beautiful. Who are your parents?
Xena: My mom is Tiny and well, we don't know who my dad is.
Rachel: Oh, well you sure do fit in here.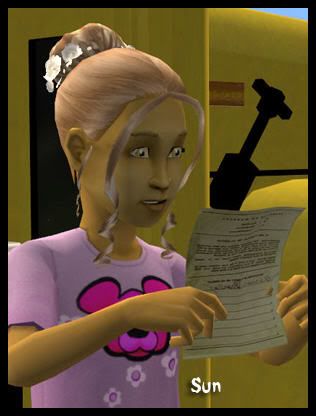 Rachel: Sun, don't worry no one does well their first day of school. I know it's shocking to see those letters on your report card.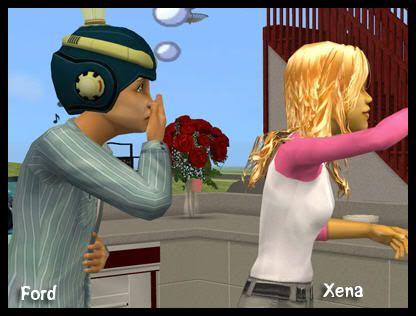 Ford: Oh my gawd Xena is SO unattractive!
Rachel: What are you talking about? SHe's beautiful!
Ford: Yuck, not for me.
-A Few Hours Later-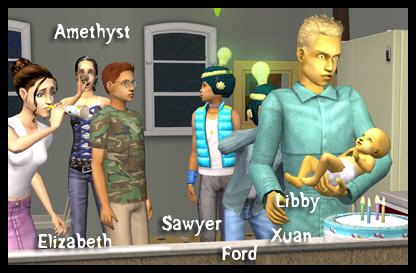 Rachel: Another birthday? Wow! Hey Elizabeth I see you made it for the girl twins' birthday. See any boys you like?
Elizabeth: I like all the boys. They don't seem interested in me though.
Rachel: Just as well. Oh, back to the birthdays.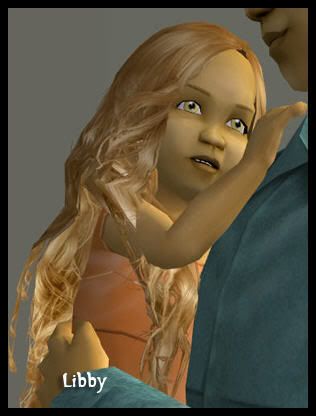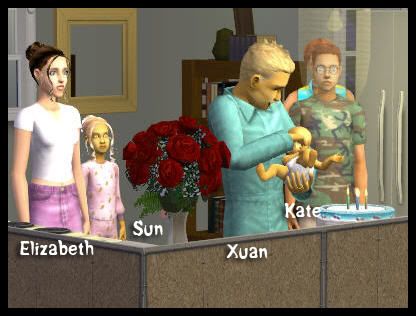 Rachel: Wow, all the girls in this house are beautiful! So lucky.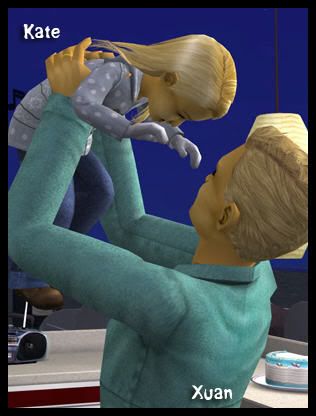 Aimee: Look at my Xuan. He's always so wonderful. He's helping Kate learn to walk as we speak.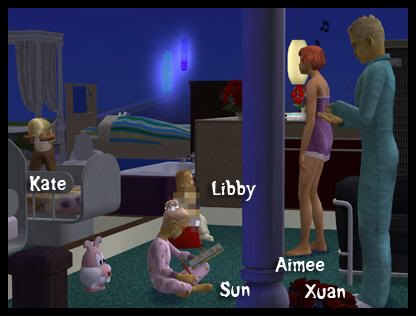 Aimee: Getting everything done that all these kids need is a real group effert. The boys even help out when they can.
Rachel: That's good.
-The Next Afternoon-


Rachel: Oh hey the boys are bringing home some new townsfolk. Hi, who are you?
Keenan: Keenan Bach ma'am. I'm new to Prosperity Point.
Rachel: Sure glad to have you here.


Rachel: And you're Xuane right?
Tornado: No, Tornado Skywalker. Xuane and I are half brothers, same Mom, different Dad. It's amazing how much we look alike. Same hair and clothes. He's younger and a bit of a copy cat.


Rachel: Sun, what's going on?
Sun: I got my very first A+ today!!! *shouting* Dad, Dad!!!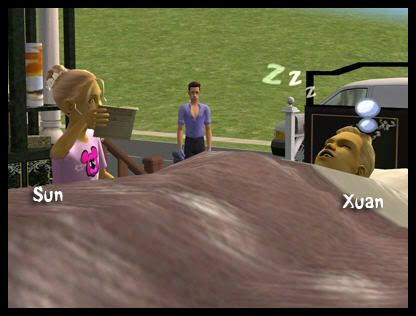 Sun: Dad, look at it, I got an A+!!!
Rachel: Maybe you should let him get some sleep. He's been taking care of your sisters all day. I'm sure he'll cheer when he gets up.
Sun: *sounding let down* OK.
Rachel: Hey I cheered.
Sun: It's not the same.
Rachel: I know.


Rachel: Umm, Ford, I know you want to help out with the girls, but maybe you shouldn't throw Kate THAT high.
-The Next Day-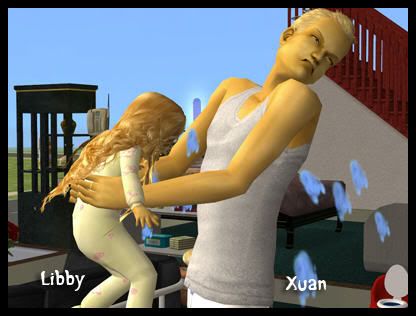 Rachel: Oh no Xuan! What happened to Super Dad?
Xuan: Got pucked on. I just love to play with the girls and I need to remember not too right after they eat.
Rachel: Yeah, wait an hour, like swimming.


Rachel: Looks like a rough day for Xuan.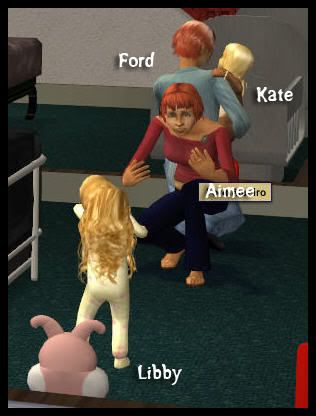 Aimee: Come to Mommy!
Ford: Now use the potty like a girl Kate.
Rachel: Ahh family bliss.


Aimee: Oh no!
Rachel: I thought you two were done having babies.
Aimee: Me too. I saw some caution signs about something new, called Risky WooHoo. I wonder if it's related.
Rachel: Don't know.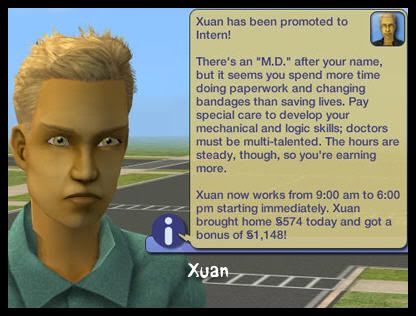 Rachel: Hey congrats on the promotion Xuan and you're gonna be a daddy again!
Aimee: Hey I wanted to tell him!
Rachel: Oh sorry!


Rachel: Even more birthdays. Man you guys are gonna go broke just buying cakes.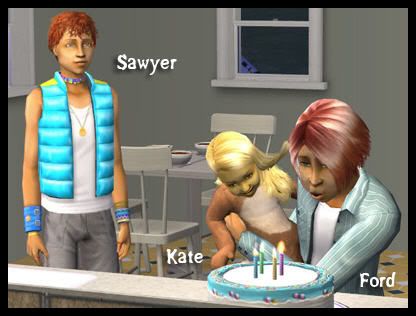 Rachel: Why so shocked Kate? We knew you were going to be a real beauty.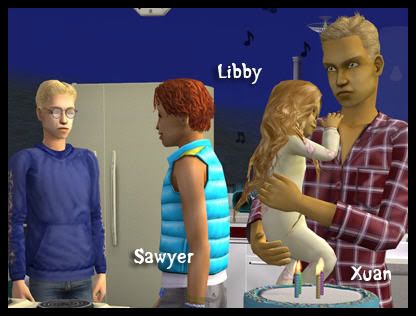 Rachel: Now it's Libby's turn.


Rachel: No shocker there either. Xuan makes VERY attrctive kids, especially girls.


Rachel: Libby get off the bed. You and Puma and gonna break something!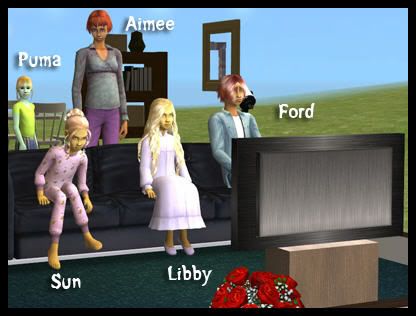 Rachel: Ah the family's watching some TV huh?
Aimee: WE're trying to find our favorite show, but it isn't on, hasn't been for awhile.
*Loud ruckous*

Me: Ouch, my head.

Rachel: Where'd you go?

Me: I think I passed out when I saw Sawyer's lifetime dream. I think I fractured my skull.

Rachel: You're fine, shake it off.

Me: *Giving sim me an unpleasant look* What's the family doing?

Rachel: Trying to find their favorite TV. It hasn't been on in awhile though.

Me: Intersting. You know LOST is off right now.

Aimee: And your point is?

Me: That has to be what you're looking for. Don't worry it's back in 5 weeks. Then 17 straight through 'til May.

Aimee: I really don't know what you're talking about. *looks at sim Rachel* Do you?
Rachel: Nope.

Me: Great they're ganging up on me. Nevermind. Good luck finding what you're looking for. Try itunes.

-Outside-

Rachel: Wow another promotion! Excellent!
Xuan: Thanks, I'm getting there.


Libby: Welcome home Daddy! Mom's screaming in the kitchen.
*Everyone runs inside*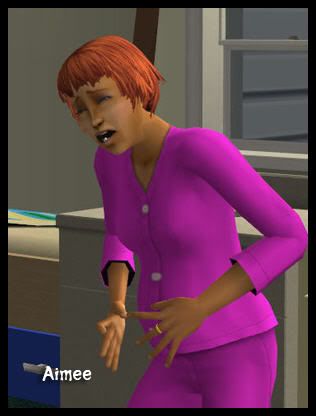 Rachel: Oh that's just labor.
Aimee: *gives Rachel a nasty glare*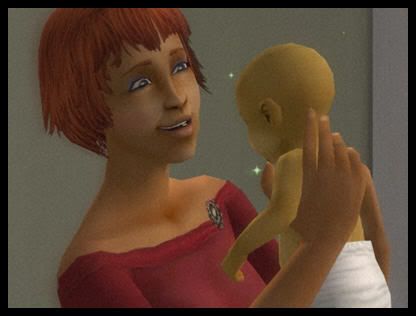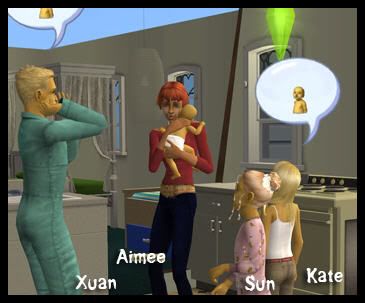 Rachel: Everyone sure is super excited about the new baby. So?
Aimee: So what?
Rachel: Name? Gender?


Aimee: Well, we were hoping for a boy. We had Hurely all picked out for a name, but it's another girl, Juliette.
Rachel: Very pretty.

Me: So I see you've been watching Season 3?

*Blank stares from all*

Me: Nevermind *sigh*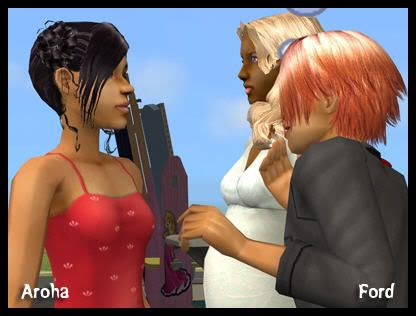 Rachel: WHose this?
Ford: Aroha Te Waiata. She's the sister of Pania.
Rachel: SHe's pretty.
Ford: Yeah. I think she's pretty hot, but she rejected my flirts.
Rachel: THat's too bad. I guess you'll be finding love in college. Sawyer too.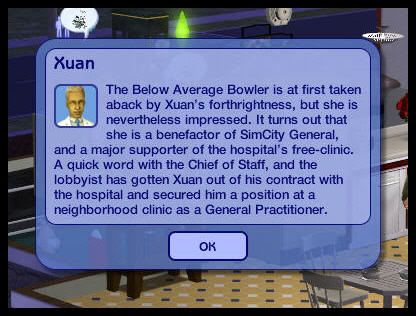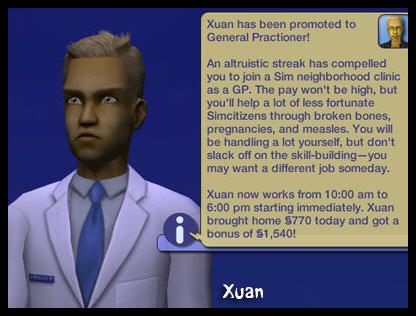 Rachel: WOW! Another promotion! This is unbelievable!
Xuan: Yeah, I rock.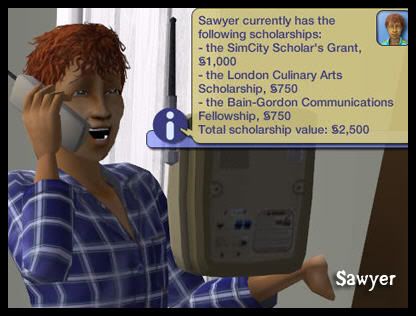 Rachel: Oh the boys are calling for scholarships.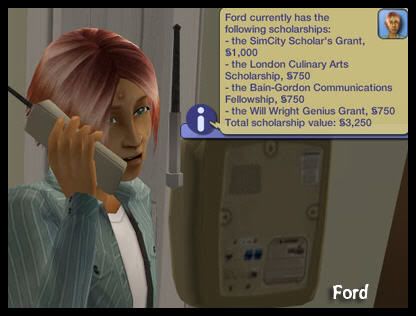 Rachel: Nice job boys! Can't wait to see you guys in college!


Rachel: Well Ribeiro's, see ya all next week.
Aimee: Bye Rachel
Xuan: Bye Rachel
Ford: Bye Rachel
Sawyer: Bye Rachel
Rachel: OK, everyone doesn't have to say bye individually, this isn't the Waltons.



Me: Just one point this time for Juliette. Who was the first truelly accidental baby from Risky WooHoo.





Funny Picture:




Libby's Matix moves.