Ribeiro 2 Round 2
Faithful?
Last time we saw Abigail Ribeiro and Jan Tellerman was in the first Ribeiro house. They met, fell in love and decided to move out and get a house of their own. These two are truely in love, but can two romance sims stay faithful?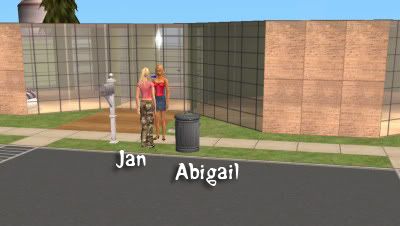 Sim Rachel: Hi there ladies. What a nice looking place you have here. So how are you getting settled in?
Abigail: Oh really well. A bunch of people have come over to welcome us to the neighborhood. I tried to tell them we just moved across the street, but they insisted on the welcome anyway.
Abigail: So Jan how do you like our new house?
Jan: It's big and empty, but so nice. We'll fill it up in time.
Abigail: For now we'll fill it with love.
Jan: Time travels so fast here. It seems like we just moved in, but it's already been a few days. We pass the time playing around and with WooHoo.
Abigail: Oh hi Brandon, so Jan invited you over huh?
Brandon: yep, she and I are really good friends.
Abigail: Funny she's never mentioned you. Well, it's nice to meet you anyway. Perhaps we can be friends too.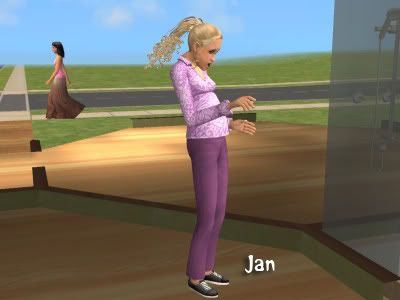 Sim Rachel: Ummm, Jan, something you want to tell us?
Jan: No.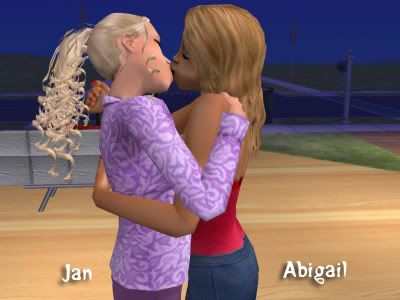 Jan: Abigail, I'm pregnant.
Abigail: Oh my gosh we're going to have a baby! I'm going to be a mother!
Sim Rachel: Umm, hate to be a stickler, but Jan is going to be a mother, not you.
Abigail: Yes, I am, Jan is having my baby.
Sim Rachel: Ahhhh, really not possible.
Jan: We only WooHoo with each other, the baby IS Abigail's
Sim Rachel: *shrugs* Alright.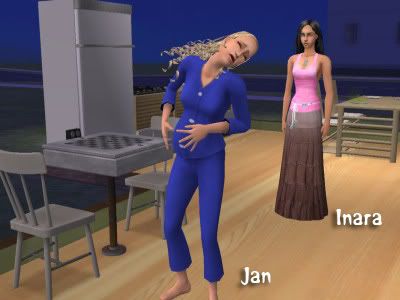 Sim Rachel: Wow time really does fly! Let's see who the father of this baby is.
Jan: Hehe, it's huoo Abigail's.
Jan: Meet my little Georgia peach.
Sim Rachel: Very cute. Humm, brown hair, blue eyes. That really isn't helpful.
Sim Rachel: Inara sure is happy too.
Me: Maybe she thinks it's her's.
Sim Rachel: What?
Me: Hold on let's see what else happens, I'll tell you later.
Sim Rachel: You might finally be useful.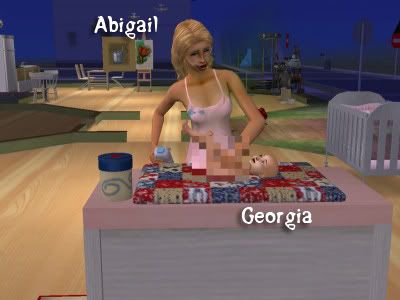 Abigail: So I hear you've met my daughter. Isn't she beautiful? She looks just like me and Jan. We'll hired a nanny for during the day when we're both working. She came with excellent references.
Me: Baby on the floor next to a stinky diaper while the nanny plays chess. Yeah, better check those references again.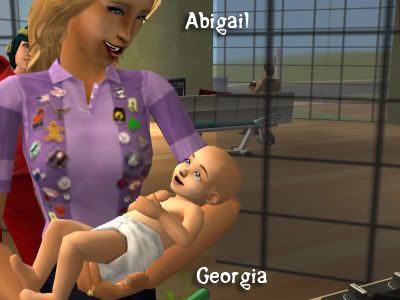 Abigail: It's time for my baby girl's birthday
Sim Rachel: Let's see any more clues? Not really. Hey you, lady that says she's the real me, do you know who the father is?
Me: I don't remember, hold on. * a few minutes later* oh yeah, him. I can't say.
Sim Rachel: It makes me sad Abigail really has taken to Georgia.
Abigail: I'm her mother why wouldn't I?
Abigail: Mama's baby girl was all stinky.
Me: OK, this is tearing me apart. Abigail I think it's great that you love your fiance's daughter so much, but you need to know the truth. Your house has a highly advanced security system, so I have have some pictures. Forgive me, they aren't in order.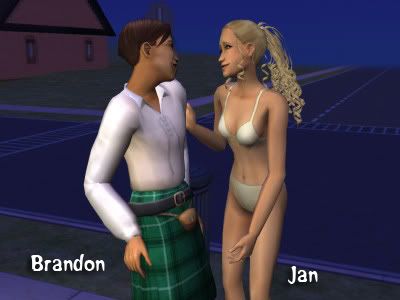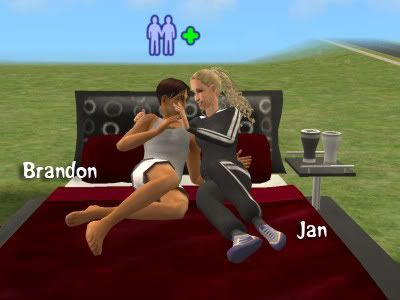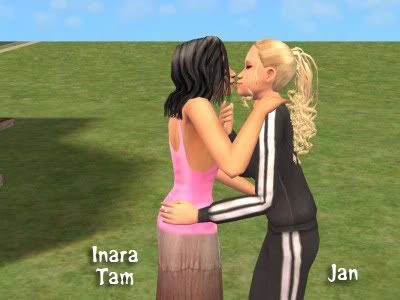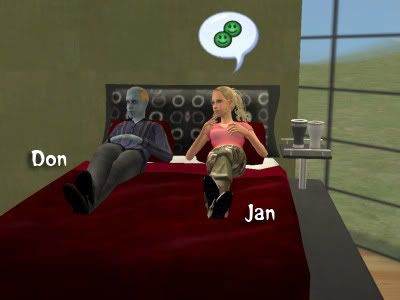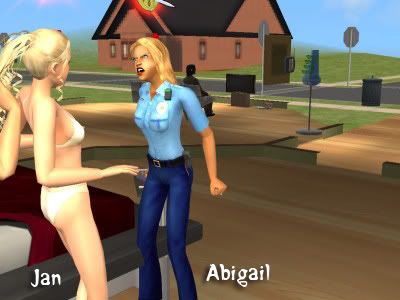 Abigail: You hussy! How dare you cheat on me and pass your daughter off as mine?!?!
Jan: Oh please Abi, please forgive me, I love you! Only you!
Jan: Oh please Abi, let this Love potion#8.5 and giant sun glasses make you forgive me.
Abigail: I just don't know if I can ever forgive you.
Me: Sorry to interupt, but Abigail how have you been feeling?
Abigail: Alright, a little sick in the morning. What are you getting at?
Me: Jan I think you should know the truth too.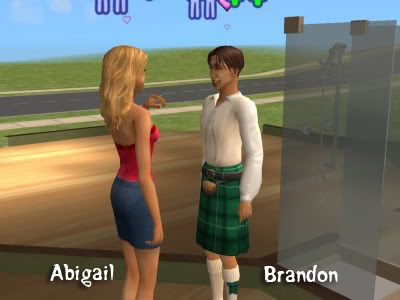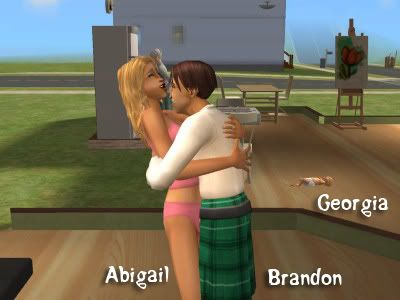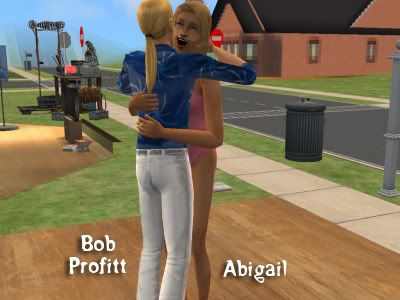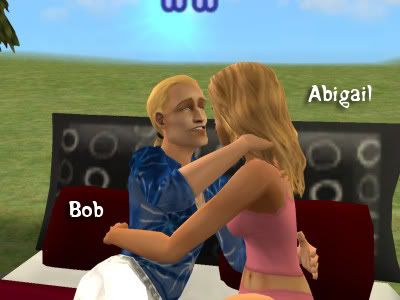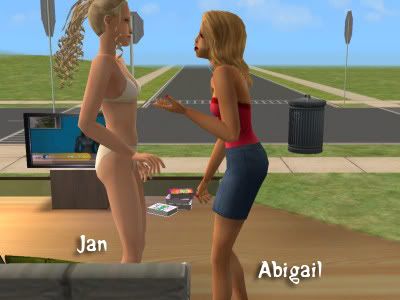 Abigail: Oh Jan, please forgive me!
Jan: Well I guess we both cheated, O.K.
Me: *shrug* Romance sims.
That ends this round in this house. I can't wait to get back to this one. You know time really does go fast when you only have two sims in a house. So who do you think is the father of Jan's baby? Is it Brandon, Komeii or Don?
Abigail: Or Inara or me.
Me: O.K. Brandon, Komeii, Don, Inara, or Abigail? If anyone trys to get me say, all I'll say is maybe, for now.