Ribeiro 3 Round 2
Wedding Plans
This is the first house of new college grads. Bethany Ribeiro is the eldest daughter of Aimee Ribeiro. She met her sweetheart Zeno Syvlaen while at Sim State University. She is knowledge and Zeno is family.
Sim Rachel: Hi again Bethany. It's great to see you again. Who is this that you brought back from college?
Bethany: This is my fiancee Zeno.
Sim Rachel: Fiancee huh?
Bethany: Yep, we're getting married.
Sim Rachel: Well it's time to start planning then. Let's go dress shopping.
Bethany: O.K.
Sim Rachel: Did you find anything you like?
Bethany: I have a few options.
Sim Rachel: Well, let's see! This is an important descition. It took me forever to find a dress I liked.
Bethany: O.K.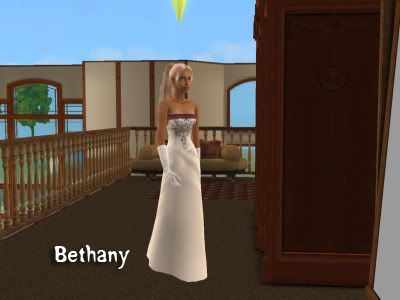 Sim Rachel: So, which one did you pick?
Bethany: You'll have to wait until the wedding to see.
Sim Rachel: What are you doing now?
Bethany: Practicing for our first dance.
Sim Rachel: Bethany, Zeno is supposed to lead.
Bethany: I just couldn't help it.
Sim Rachel: Now what?
Bethany: Practicing our vows. *clears throat* Zeno, I search so long to find someone to love. The moment I met you, I the decision became clear, you were the one for me. What do you think?
Sim Rachel: *whipes tear* Sounds perfect. Oh hey, the Welcome Wagon is here.
Me: Oh look whose back, it's Wen.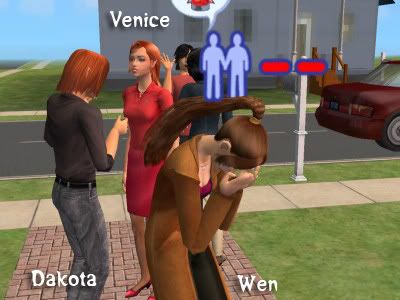 Sim Rachel: Wen, what's wrong?
Wen: It's Venice.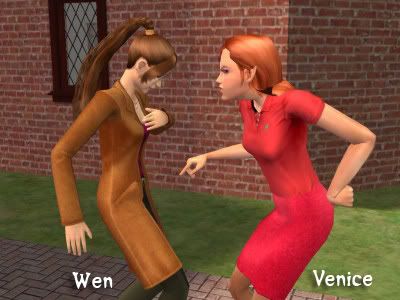 Venice: You egotistical so and so. You ALWAYS have to be the center of attention dont' you? What about the rest of us, huh? You weren't even one of the original people here you had to marry into the hood and now this blog is ALL about YOU!
Wen: *sobbing* I was just trying to be nice and meet people. I didn't mean to be a blog hog.
Venice: Oh sure now you're looking for sympathy, trying to get more blog time. This is Bethany and Zeno's entry.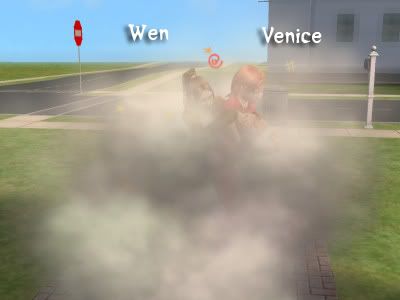 Sim Rachel: Oh my goodness ladies, ladies please.
Sim Rachel: Wow, claws to the face, that has to hurt.
Sim Rachel: Uh, head lock, I wonder if she can get out of that.
Wen: Take that! That'll teach you to mess with me.
*5 minutes later*
Sim Rachel: I guess that didn't teach her.
Sim Rachel: That probably will though.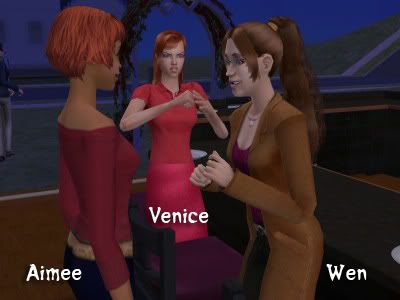 Wen: So Mrs. Ribeiro I hear your lovely daughter Bethany is getting married, how lovely.
Venice: I'll teach that blog hog a lesson, one day.
Sim Rachel: Oh Bethany, I love your hair.
Bethany: I just got back from the hair salon. today's the big day. We had to wait until we both had the day off work. I want to be a criminal mastermind, so I really didn't want to wait. The guests are starting to arrive. I need to get changed, I'll see you out there.
Zeno: Bethany, life was so dismal before you came into it and lit up my world.
Sim Rachel: Looks like that practice paid off.
Sim Rachel: Zeno, now that's how to do it. Brendon get out of the shot! Geezzzz!
Sim Rachel: Everybodies having a great time.
Bethany: Yep it's been great! A bunch of friends, my mom, little brother who I had met before, my aunt Abigail and Zeno's sister Amethyst showed up.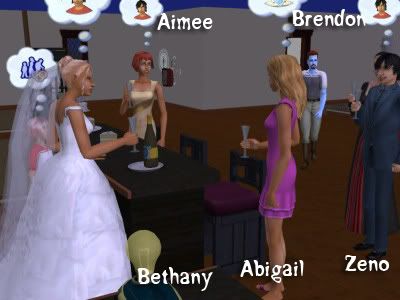 Bethany: To my wonderful husband, Zeno!
Sim Rachel: Honeymoon time. Have fun kids!
Sim Rachel: Newlyweds!
Sim Rachel: Hey Zeno, whatcha doing?
Zeno: I got a job in the culinary field, and I'm working on my cooking skills. I want to be able to provide for all the kids Bethany and I are going to have.
Sim Rachel: How does she feel about having all these kids?
Zeno; She's fine with it once she makes her limetime dream of being a criminal mastermind.
Zeno: We had to time things so she wouldn't miss anytime from work with her pregnacy. So unlike everyone else around here, we didn't start our family on our wedding night.
Sim Rachel: Ahh, success!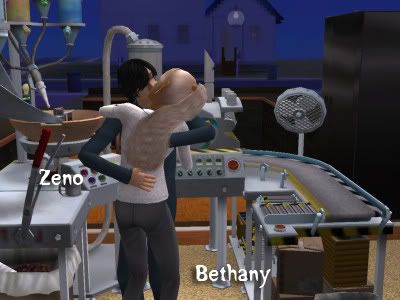 Sim Rachel: Umm, Zeno you know she's already pregnant right... Zeno? Newlyweds.
Bethany: OK, you need to work on being creative with your lies so the lie detector won't suspect anything.
Sim Rachel: What are you guys doing now?
Bethany: Zeno: needs to be more creative so the guys at the restaurant will give him another promotion. He's a restruanteer and I'm up to a smuggler. I can't wait to get back to work.
Sim Rachel: Bethany, whose your friend?
Bethany: This is Kricket Cooprider, we met in college. I'm spending my pregnany time working on skills and friendships.
Sim Rachel: Show time
Sim Rachel: It's a Girl!
Bethany: This is Jewel. She looks a lot like my mom. She has red hair and purple eyes. You would have thought that with her dad having black hair, she would too, but nope. So far she doesn't look like either of us.
Zeno: My first child. The first of ten!
Bethany: The What!?!?
Sim Rachel: I thought you said she on board?
Zeno: We'll talk about it later dear, you're tired.



Me: Well, that's all for now. I can't wait to get back to this family. The only problem with waiting to start their family is I have to wait a whole round to see her as a toddler. She was literally born one sim hour before I had to leave the house. Oh and Wen and Venice were really fighting about something from when Venice was still in college which will be in my next University installment, not sure when that's coming. Oh and I switched to larger text so it would be easier to read, especially the italized parts. I have bad vision, especially for someone my age, and I'm sure I'm not the only one.




Just 1 point again, for another sim.