Seasons Greetings


Last time Kayla and Benjamin (Ribeiro) Dante returned from college and bought a house. They got married and tried to get pregnant but couldn't. When trying to adopt a pet, Ben (or me really) accidentally adopted a child instead and little George showed up the next day. They did manage to adopt two dogs as well. At the end of the Kayla finally got pregnant.


Rachel: *looks around* Hum, no one is here. It's getting sort of cold though, this is weird.


Me: Welcome to winter!


Rachel: What's that?


Me: Ah dear, just wait.




Rachel: Nice job girl!


Rachel: Ah here we go. Hi George. I see your friend Jenn is here.
George: Yeah.
Rachel: Kids are so informative.


Rachel: Playing some catch Jenn?
Jenn: Yeah.
Rachel: Adults are so informative too.


Rachel: Another doggie promotion! Nice job boy!


Rachel: There you are Kayla. I couldn't find you before I suppose you were probably sleeping.
Kayla: Ahhhhhhhhhhhh!!!!!!!!
Rachel: Oh, looks like the baby is on it's way!!!


Kayla: Hi there baby!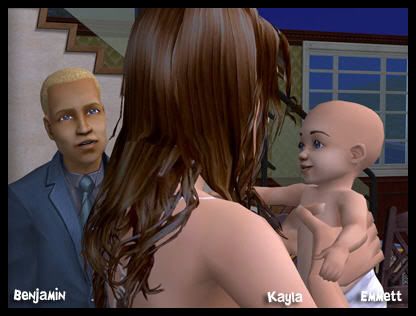 Kayla: A second son. meet Emmet.
Rachel: Hi Emmet.
-The Next Afternoon-


Rachel: An A+! Great job George!!!


Rachel: Who is your friend?
George: This is Nicole Kaufman.


Rachel: Burr Kayla I can't believe your out here. It's SO cold!
Kayla: Put on a jacket silly.
Rachel: Oh *spins* that's better.


Rachel: Sweet.


Rachel: Ah and Lynn even stops by. So unusual when it isn't a store.
Lynn: What are you trying to say?
Rachel: Nothing, just observing.


Rachel: OK Kayla, what are you doing now?
Kayla: Nothing


Rachel: What the heck is going on? What is this white, wet stuff falling from the sky?


Me: Be cool, it's just snow. You'll be fine. Kayla wanted to have some snow this winter.


Rachel: Ah so that's what you're talking about.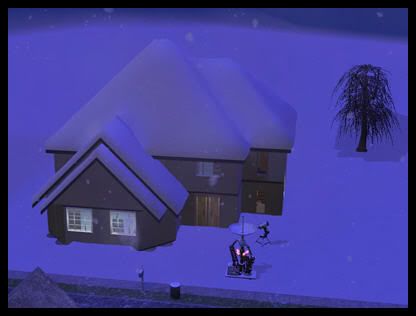 Rachel: It's sort of pretty.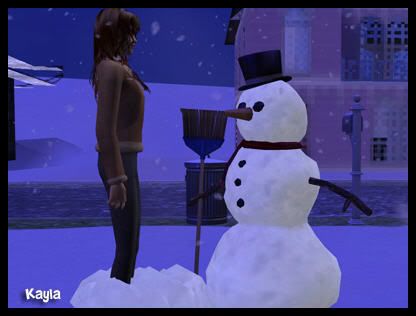 Rachel: What is this winter man?
Kayla: He's a Snowman. I just made him. It was fun!


Rachel: Oh, hey looks like we have a birthday.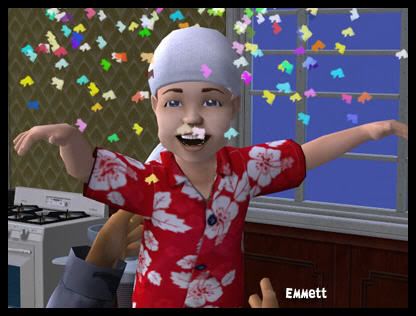 Rachel: What a happy little boy our Emmet is!


Rachel: Um, hey guys, do you really think it's a good idea to let a toddler out in the snow in an Hawaiian shirt? I mean the stuff sort of seems cold.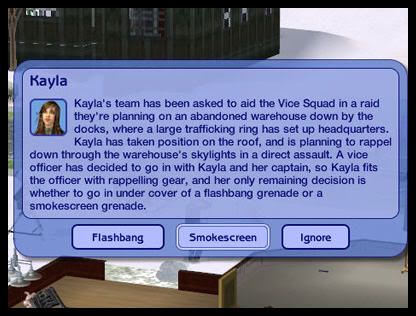 Rachel: Oh no Kayla! That was the wrong answer.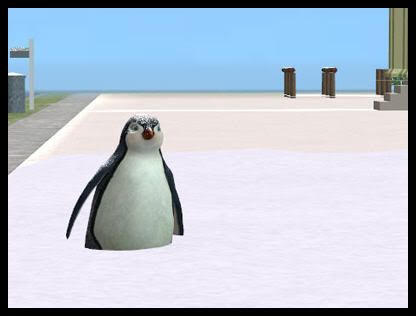 Rachel: Ahhhhhhh!!!!!!!!!!


Me: what's wrong now?


Rachel: what is that?


Me: A penguin. They aren't scary


Rachel: You sure?


Me: Yes, look.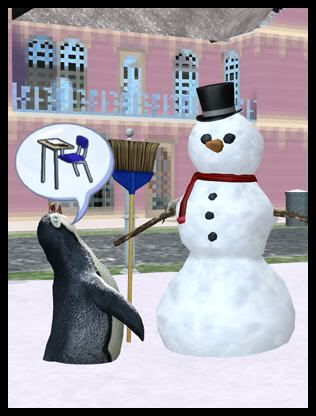 Me: See he's talking to the snowman. It's all good.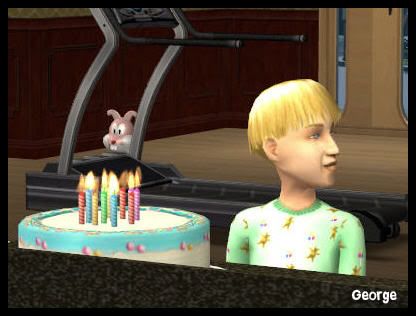 Rachel: Oh hey George. Haven't seen much of you this week and now it's your birthday.


Rachel: Not half bad.


Rachel: Looks like George has his friend Jenn over again. what are they doing?


Me: It's called a snowball fight.


Rachel: What? are they mad at each other?


Me: No it's a game.




Rachel: Oh my goodness are you all right Jenn? That one gotcha right in the out bread box.
Jenn: I'm fine.
-The next Day-


Rachel: George, you brought Libby home from school with you.
George: yeah, we're friends.


Me; Hum I wonder if this simself will hedge out Jenn to be the light in George's eye?




George: Libby you sure are pretty.

Me: Interesting.
Me: Progress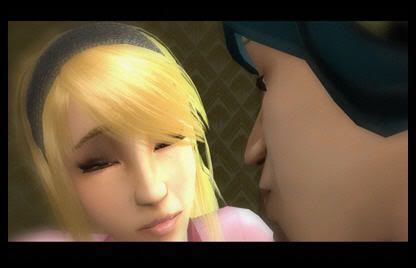 Me: Signed, sealed, delivered, he's her's.



Me: Ah and Jenn starts working on a friendship with the brother.


Rachel: What you going on about now?


Me: Nothing, sorry.




Rachel: All right, now that I'm back in charge. Looks like Emmet is learning to talk.
-Later-


Rachel: Oh the peegin is back.
Me: Penguin.
Rachel: Whatever.


Rachel: Awe are Libby's leaving flowers for George. Shouldn't that be the other way around?


Me: Sometimes.




Rachel: Um Ben, when the snow is waist deep, using the bubble blower isn't the best idea.


Emmett: Emmett uv da puppy.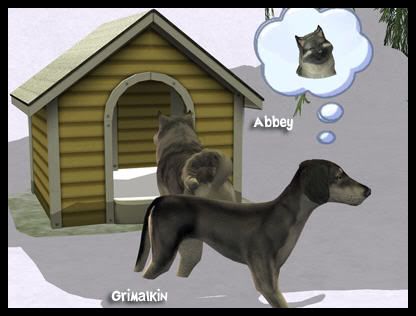 Rachel: And you're not the only one Emmett. Shield your eyes.


Benjamin: Come on walk for daddy.


Kayla: So what do you think, should we try for a daughter, an heiress?
Benjamin: I'm fine with the two.
Kayla: Me too.
Rachel: Awe so no daughters for you two?
Kayla: Not planned at least.


Rachel: What on earth are you doing George?


George: I'm planting some tomatoes. The former mayor suggested it, in his letter.
Rachel: Oh, I see. I haven't read the letter yet.


Rachel: wow and little Emmett is already having another birthday!


Rachel: Handsome. You look like your dad but with your mom's coloring.
Emmett: Um, OK.


Emmett: Wanna play some red hands Jenn?


Me: Looks like her plan is going well.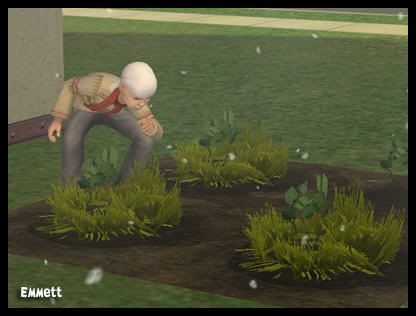 Rachel: Emmett what are you doing to your brother's plants?
Emmett: Pulling weeds lady.


George: Whatever am I going to do without you at college with me. Please say you'll come to.
Libby: I will.


Me: And Libby's in.


]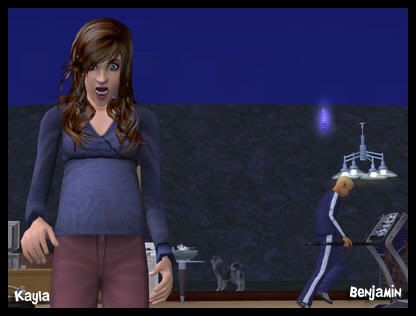 Rachel: Hey wait I thought you weren't having more kids?
Kayla: Wasn't planning on it but that WooHoo sure can be Risky sometimes.
Rachel: A lot it seems really.


Rachel: Not bad George. So I guess we'll be seeing you at Sim State.
George: yes, mame.
Rachel: Well I guess it's time to move on. See you next time.

Points: 1 for Emmett
Do you know the naming scheme in this house?

Funny Picture: An "empty" bed