Welcome back. I think I should have said that I had actually finished playing in part 1, just hadn't written it. Oh well. Let's see what I did. We'll pick up exactly where I left off.

Rachel: So you decided to go for a girl of your own huh?
Coqui: Sure did.
Rachel: You do know how badly the odds are stacked against you right? Out of Andres 11 kids, he has 1 girl and out of your 10 kids, you only have 2 girls.
Coqui: I think that means we're due for one then right?
Rachel: I hope so.


Me: Side note, I just had them WooHoo but with Risky WooHoo she could be pregnant. And I only let them try once.




Rachel: So Pluto, what do you think of your old friend Natalie?
Pluto: I think she's wonderful! Beautiful and everything! (2 bolts)
Rachel: That's wonderful!


Rachel: Wow for the mother of 10, you sure do look amazing!
Coqui: Thanks.
Rachel: So Coqui you think you're pregnant?
Coqui: I hope so. We really don't have extra time here.
Neptune: Mom, I need help!
Coqui: Sorry honey.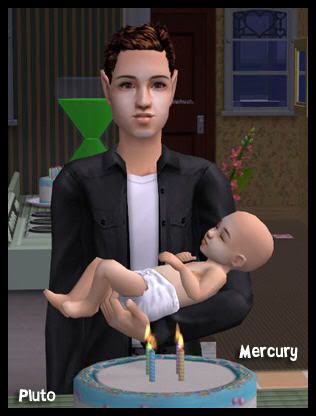 Rachel: Pluto you're such a good son to help with your brother's birthday.
Pluto: No big deal.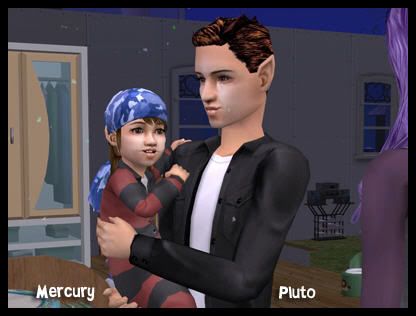 Rachel: Awe Mercury sure is a cutie pie.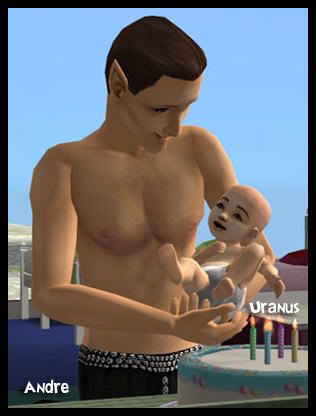 Rachel: Happy Birthday Uranus!


Rachel: Another adorable boy!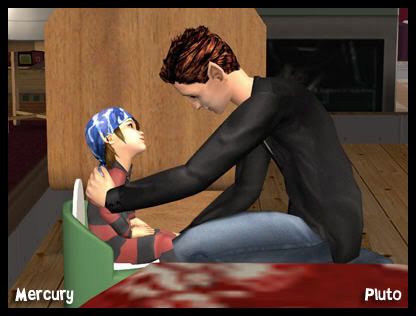 Rachel: Wow even helping with potty training!
Pluto: I might as well start practicing now.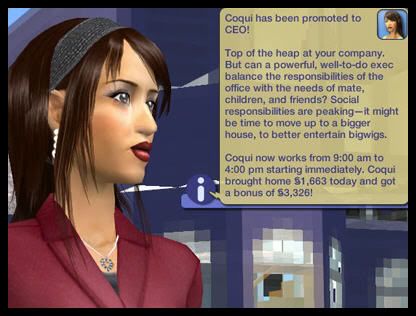 Rachel: Another promotion! Great Job!!!
Coqui: Wonderful!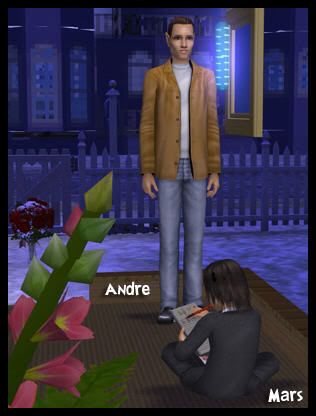 Rachel: Mars didn't get his homework done yesterday?
Andre: No it is crazy around here with all these kids. He'll finish it all now.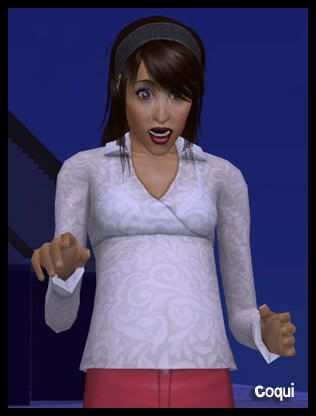 Rachel: Sweet, you're pregnant!
Coqui: Now we just have to hope for a girl.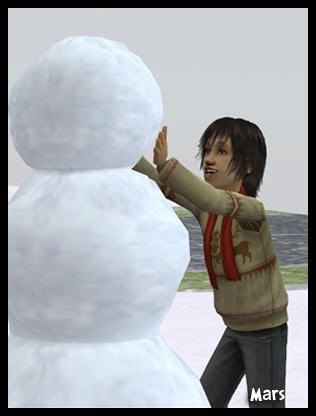 Rachel: Looks like you finished your homework.
Mars: Sure did! Then it snowed, so I wanted play!


Mars: Ta-dah!
Rachel: Very nice Mars.


Andre: Awe man, I burned it.
Rachel: What's that?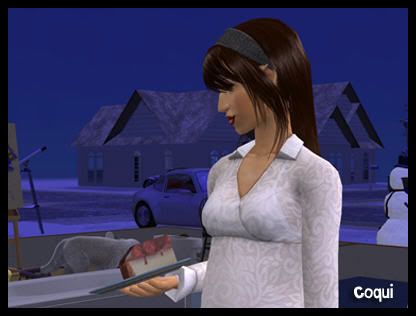 Coqui: Some cheesecake. We figured this is our last chance at a girl, so we might as well double it.


Rachel: What are you doing Pluto?
Pluto : Looking for finger prints. This is a really cool thing my dad brought home from work.
-The Next Day-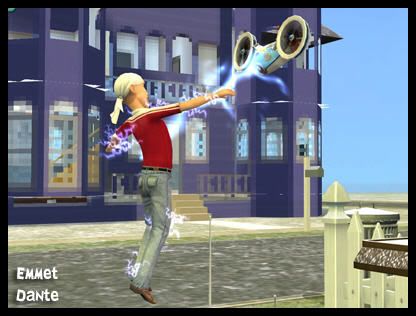 Rachel: Looks like Coqui has been using her maternity leave to build robots. Silly Emmet Dante, don't try to steal the paper when there's a sentry bot around.
Coqui: Yeah, I want to earn $100,000 and selling robots actually bringing in decent cash.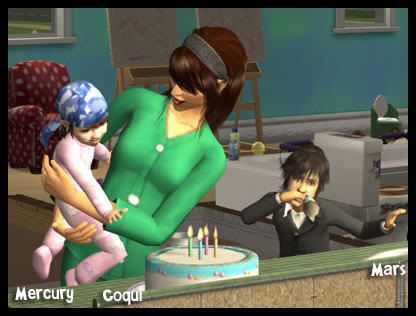 Rachel: Wow another batch of birthdays.


Rachel: Mercury you sure do take after the Holiday side of the family.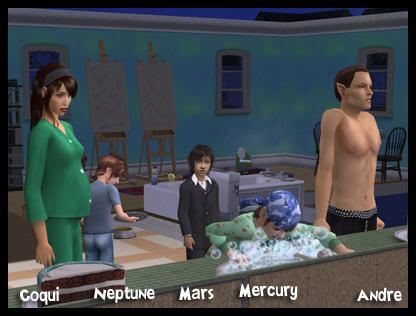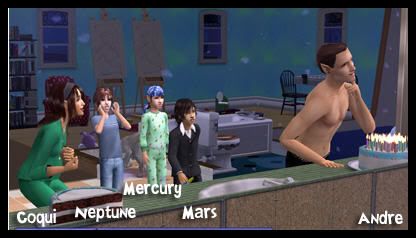 Rachel: It's your Birthday Andre! Oh my how fast time flies.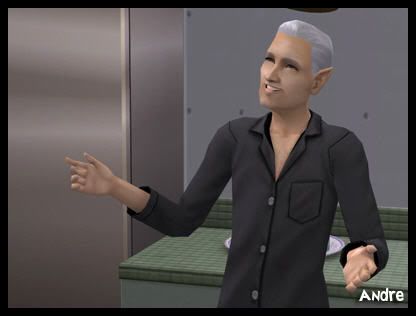 Rachel: Still a handsome man Andre.
Andre: Well thank you.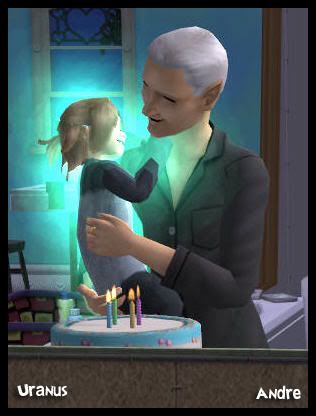 Rachel: And finally Uranus.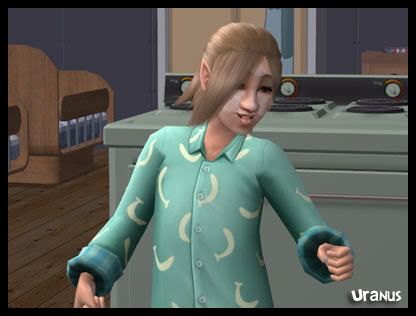 Rachel: Another one that takes after the Holiday side.


Coqui: Eeeeeeeeeeeeeehhhhhhhhhh!!!!!
Rachel: Moment of truth.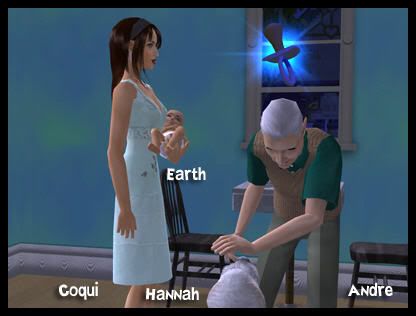 Rachel: So?
Coqui: Another boy, meet Earth.
Rachel: Ah Andre, stop playing with Hannah and hold your sun.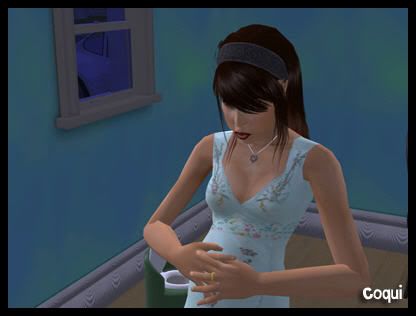 Rachel: Here come the second one! Girl, girl, girl, come on girl!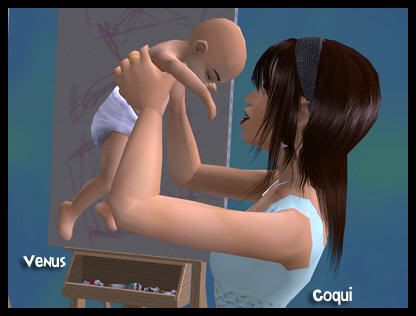 Couqi: It's a girl!!! Meet Venus.
Rachel: Yipee!!!!!!!
Andre: Yes!!!!!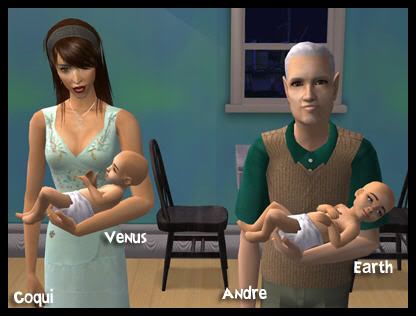 Andre: Now the family is complete.
Rachel: 13 kids is enough for you Andre and 12 for Coqui.
Andre: Sure is.


Rachel: Andre, so how's fatherhood and elderhood treating you?
Andre: Ahh, just wonderful! Now I just need 2 more kids to get married and my life will be complete. Oh and 20 grandkids would be great!
Rachel: Well considering how many more kids you have, I think 2 of them will get married. AS for 20 grandkids, I bet that one happens too. You have like 13 grandkids already, I think.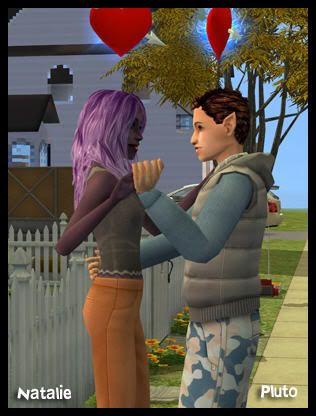 Rachel: How are things going with Natalie?
Pluto: I love her.
Rachel: Awe.


Natalie: Ouch.
Pluto: Sorry!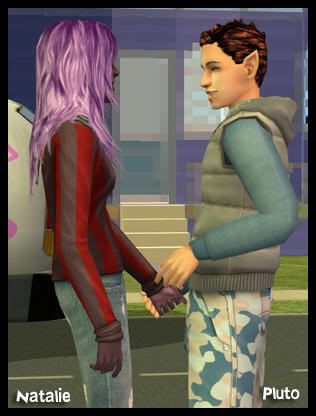 Pluto: So do think maybe you'd want to go steady?


Natalie: Yes!


Rachel: So are you two glad you decided to have not one, but two more babies, so late in life?
Coqui: Yes, definitely!
Andre: Ahh, nakie baby! Ah, yes, most definitely.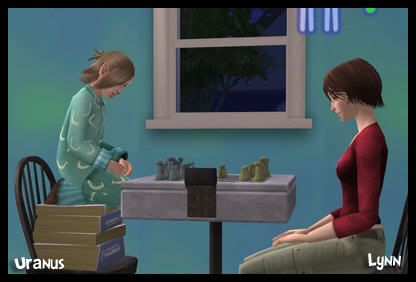 Uranus: So then I'll move this guy here.
Lynn: You can't do that.
Uranus: Yeah I can see.
Rachel: So Lynn, I can't help but notice you've been around here a lot this week. What gives?
Lynn: Well, there are a lot of boys in this house and ah, I want into this story some how. So this house gives me better odds.
Rachel: Good plan, I think.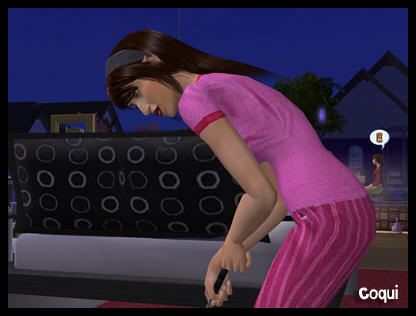 Rachel: Working on your charisma for another promotion?
Coqui: Sure am.
Rachel: You know Coqui, you've been pregnant so much I actually forgot what your regular PJs
Coqui: Me too.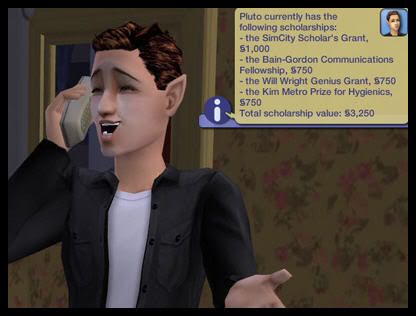 Rachel: Well it must be time to go. Nice job on the scholarships Pluto. So is Natalie going with you?
Pluto: Thanks. Ah yeah Natalie's coming with me. I can hardly wait!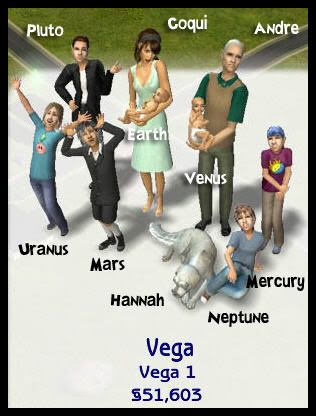 Me: Awe man, I so don't want to leave this lot. It's going to be two more weeks before the twins go off to college. You know I hope Andre and Coqui survive long enough to have Venus move back and take over the house.
Points: 8
4 for Mercury. Uranus, Earth & Venus
1 for $
3 for Andre's Impossible Want of 10 kids
looked like.